EUAM provides support for State Fiscal Service to build an integrated competency-based HR management system
March 20, 2017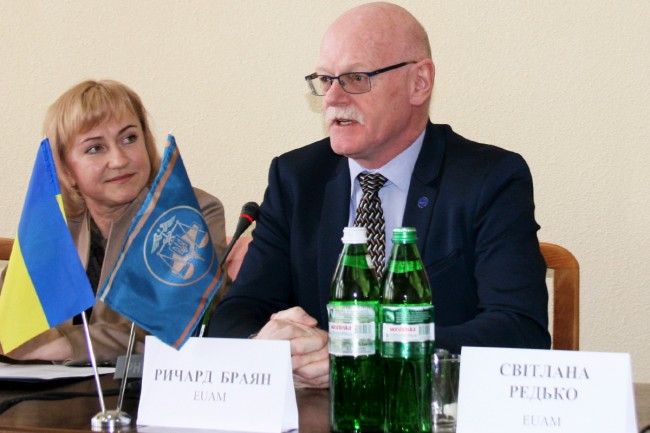 Experts from the EU Advisory Mission Ukraine (EUAM) delivered a training on 17 March in Lviv for HR middle managers in regional offices of the State Fiscal Service of Ukraine (SFSU) on the subject of 'Effective Selection and Interviewing Skills. Competency Management'. The training focused in particular on building practical skills of HR middle managers in recruitment and selection as the first element of a Human Resources Management lifecycle. The experts stressed the value of establishing an integrated approach to managing staff in any organisation and building a competency-based system for performance evaluation and promotion.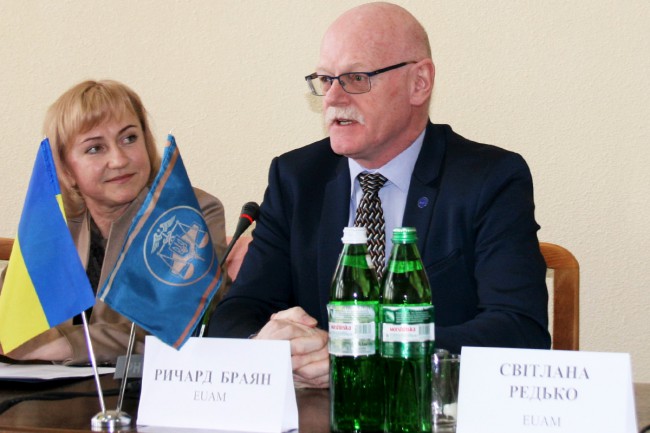 Brian Richard (right), Tetiana Pazhytnova (left)
"Staff motivation depends to a large degree on a perception that their career is being managed in a fair way. It is therefore important that any organisation establishes objective criteria for evaluating performance and that staff trust this system. This starts with recruitment, but is crucial to all elements of Human Resources Management," said Brian Richard, EUAM's Head of the Strategic Civilian Security Sector Reform Component. 
The 18 trainees that took the one-day course came from HR units in Lviv, Volyn, Ternopil, Ivano-Frankivsk and Zakarpattia oblasts and were joined by the Director of the HR Department of the SFSU Tetiana Pazhytnova. The training course was agreed with the SFSU after a successful pilot project held in Kyiv in December 2016. It is now planned to be rolled out to three regional hubs – Kyiv, Odesa and Poltava in the coming months.