EUAM and National Police agree road map for further cooperation in key reform areas
May 29, 2017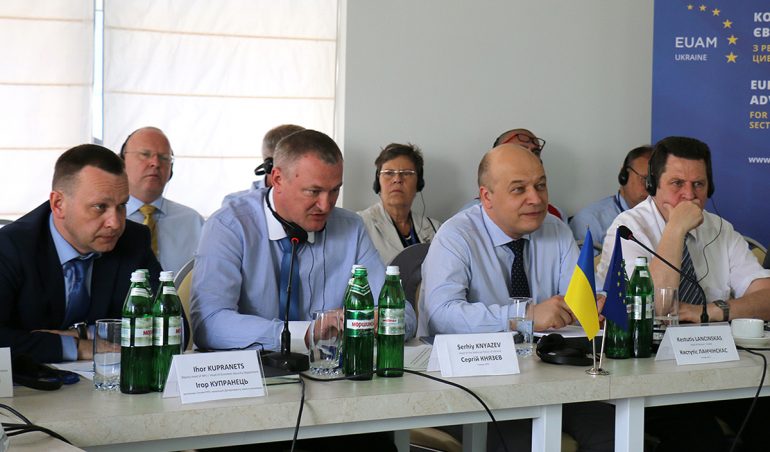 Cooperation between the senior management of the National Police of Ukraine (NPU) and the European Union Advisory Mission (EUAM) stepped up a gear today after a meeting that lasted for more than six hours.
The concrete steps of implementation of the NPU Action Plan were agreed with the senior police management by the end of the discussion, identifying in particular areas where EUAM support is most needed.
EUAM will be building on support already provided in areas such as criminal investigations, merging operatives and investigators under one chain of command, implementation of Intelligence-Led Policing, witness protection, human-resources management, public order, dialogue policing, forensic equipment, and strategic communication. 
Since last year, EUAM has donated IT and special equipment to the NPU worth over €400,000. The Mission also has ongoing projects worth almost €1.5 million that will benefit the NPU. More than 1,000 police officers were trained by EUAM in 2016, a figure that EUAM aims to double in 2017.
The recently launched EU project 'Support to Police Reform in Ukraine' (SPRU), worth €6 million, aims to strengthen community policing in 20 police districts in mid-sized towns in the Kyiv, Kharkiv and Lviv regions, and support the reform of public-order policing in Ukraine.
"I am confident that our fruitful cooperation with EUAM will result in the creation of an effective, European-style law-enforcement agency in the near future,"  said the Head of the National Police of Ukraine, Serhii Kniazev. "Citizens must see it for real. Otherwise, we will do just reform for the sake of reform. The main task of the police is to increase the level of security for citizens and their trust in the police. To achieve this, we plan to strengthen public order, community policing and criminal investigations."
"Today we pave the way ahead, elaborate the joint work objectives for both EUAM and the National Police of Ukraine for 2017," said the Head of EUAM, Kestutis Lancinskas. "We are thankful to all our National Police interlocutors for their positive acceptance of support and their readiness to engage with changes, which are not always easy and comfortable. Trust in our joint initiatives, and willingness to implement positive transformations, are key for the reforms that ultimately aim to benefit the Ukrainian people."
EUAM and the NPU have already implemented a number of successful projects, such as the Model Police station – so called 'Sambir Pilot Project' – that has been rolled out to 103 police stations out of 600 nationwide. The 'Merger of Investigator and Operatives Project' was recently launched in Boryspil station and then rolled out to seven more regions.