EUAM confirms its support for the SBI to meet current and future challenges
September 20, 2019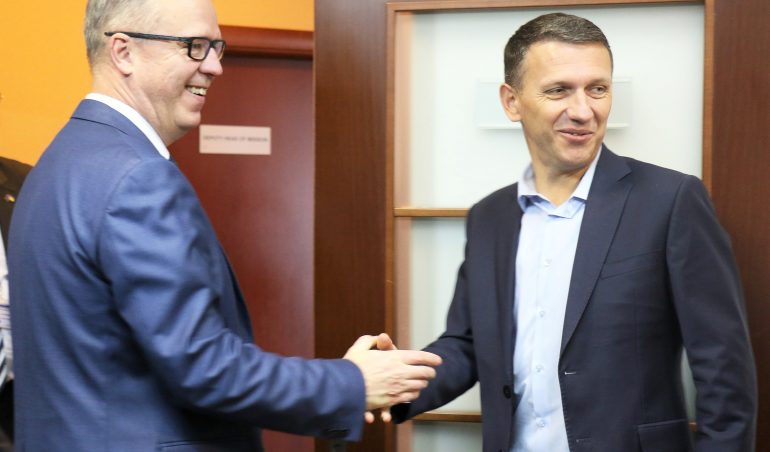 Support for the State Bureau of Investigation to recruit and train new personnel as it focuses on the task of investigating 25,000 open criminal cases as well as advice on strategies and new legislation were the main topics of discussion today at the first official meeting between the Head of the European Union Advisory Mission (EUAM) Antti Hartikainen and the Director of the State Bureau of Investigations (SBI) Roman Truba.
The SBI Head provided an update on his organisation's latest activities, highlighting the upcoming selection of 400 new operatives in November, a milestone which is expected to make the SBI fully operational. In light of the fact that 60% of the SBI's staff has not previously worked in Ukraine's law enforcement system, Mr Truba was particularly keen to discuss training opportunities for SBI staff in international best practices, including support for a proposed new Training Centre and an Expert Body for the SBI. Mr Truba also underlined his institution's increased workload. With over 25,000 open cases across the country, some investigators are personally dealing with over 130 cases.
The Head of EUAM confirmed the readiness of the Mission to support the SBI with training, as well as provide advice on recruitment procedures, organisational strategies and new legislation.  "EUAM and SBI have already a good record of cooperation. We are happy to continue supporting the development of the SBI", said the Head of EUAM. "The SBI is an extremely important new law enforcement agency and our task is now to establish together where our support would be most effective," stated Mr Hartikainen.
"The SBI has to be transparent in its activities, as much as is allowed for a Law Enfacement Agency," said Mr Truba. "We understand how important this is for public trust, as citizens expect us to deliver results. We hope that EUAM will remain our reliable partner in the future."