#HeroesofUkraine: EUAM Training Officer is not leaving Kharkiv despite the war
April 05, 2022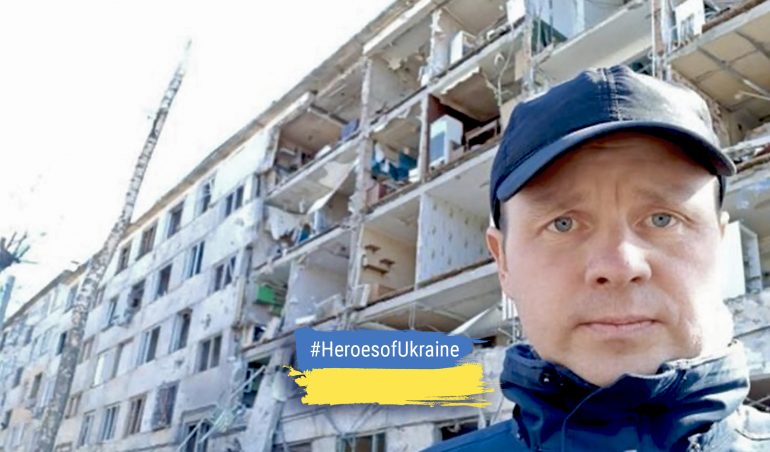 "The Ukrainian army has fought back, and Russians have realised that they cannot invade Kharkiv easily. They have intensified the bombings and airstrikes", says Maksym Levytskyi, a former Ukrainian police officer who now works for the EU Advisory Mission in Ukraine. Many women and children have left Kharkiv behind. Those who are still there are about to flee. Kharkiv has been under Russian attack for more than one month. The city is located in the East, only a few kilometres from the Russian border. Russia, the old sister country, has now turned into an enemy. 
_____________________________________________
Journalist Miguel Rojo interviewed EUAM staff Maksym Levytskyi, who decided to stay in Kharkiv to help people in the middle of the war. The article was published in El Comercio 23.3.2022. EUAM Ukraine is posting the paper with the consent of the author.
_____________________________________________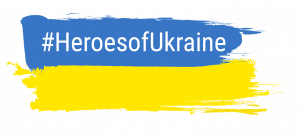 Maksym Levytskyi is staying in Kharkiv with his family and friends to help as much as possible. He is an information security manager of his neighbourhood, who makes sure that nothing is missing like medicines or food.
Maksym Levytsky liaises with the municipal authorities to maintain order. Unfortunately, thefts have increased since the beginning of the war. For example, people take turns protecting their cars during the night. There is a shortage of fuel, and it is also costly.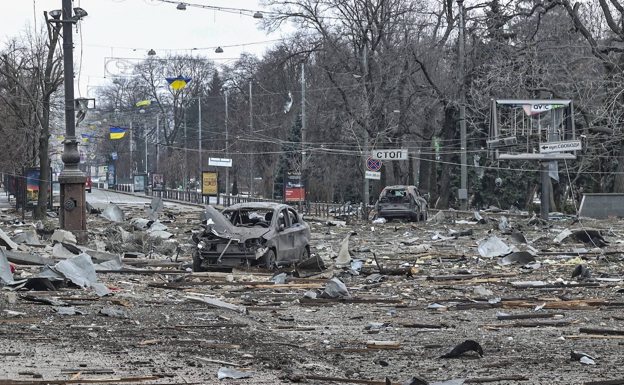 A central street in Kharkiv destroyed by Russian bombings.
With his neighbours, Maksym Levytskyi has created a "wartime community". "We are like a big family," Maksym sums up. During the day, if the sirens are not wailing, people come out of the cellars, where they are forced to spend their nights. 
Maksym Levytskyi admits that sometimes he considers leaving Kharkiv with his wife Tetiana and their five-year-old daughter, Myroslava. But if they left, they would have to leave behind their parents, grandparents, uncles, cousins ​​and friends. And the city, the city that they love – their city.  Maksym Levytskyi fears that he would be guilt-ridden for the rest of his life if he had to leave his loved ones behind.
Nights are the worst
It is sad and frustrating to walk on the streets, which once were busy and full of life. It was still normal just a month ago, and now, you feel like in the Second World War, with destroyed buildings, cars, and all the destruction that missiles have done. Behind Maksym, Levytskyi is a building with its walls broken, baring the apartments to the outside world.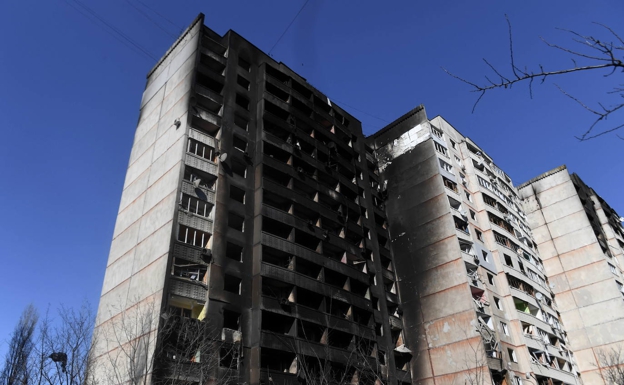 A building destroyed by an air raid in Kharkiv.
"Many buildings, like this one, are uninhabitable; they have holes in their facades, the roofs have collapsed… Most of the buildings in Kharkiv have no windows; therefore, we have turned off the heating. It makes no sense to heat a house with broken windows", he explains. To make things worse, the temperatures have dropped to -10 degrees centigrade. A few streets further on, several men are clearing debris from another building, looking for something that could be salvaged. 
"The Russians have intensified their airstrikes. You never know when or where a missile may land," he explains. Nights are the worst because the inhabitants of Kharkiv have to hide underground during them. "During the day, we return home, where we have our things, clothes, and food".  But some of us don't have our homes anymore.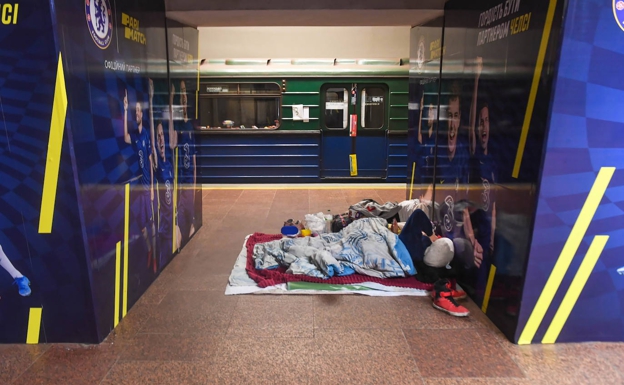 Subway stations and carriages are now sleeping areas for residents of Kharkiv.
Those who remain resist
Day-to-day life in Kharkiv is strange, but people still get their salaries, and the economy persists even during the war. "We have to buy food, fuel and medicine. All local officials and workers continue to receive their salaries. Those who have lost their jobs can apply for benefits/help to help them cater to their basic needs", Maksym Levytskyi explains. Fortunately, the Ukrainian credit cards still work. Food aid is also distributed to those who need it. It includes bread, sugar, oil and pasta. "Since we can still buy food, we leave those help packages to those who need them".
A street that used to be alive is now adorned with banners in the colours of the Ukrainian flag. It is like an authentic wasteland, with the ground raised by the explosions and overturned. There are smoking cars, and all the street benches and marks are gone.  
There is an eery feeling at the front line, especially in the city's north and east.  "In the South and West, we are not so isolated. Here, we have a humanitarian corridor through which different kinds of products and aid can be brought in and through which the people, who decide to leave the city, can go to safety".
During the early days of the war, one train could transport between 200 and 300 people from the city. Now the flow of people from it has slowed down. But everyday people still leave for safer areas. In the west of Ukraine, it is less dangerous. Many Ukrainians decide to cross the border to Poland, Moldova, Slovakia, and Romania as refugees."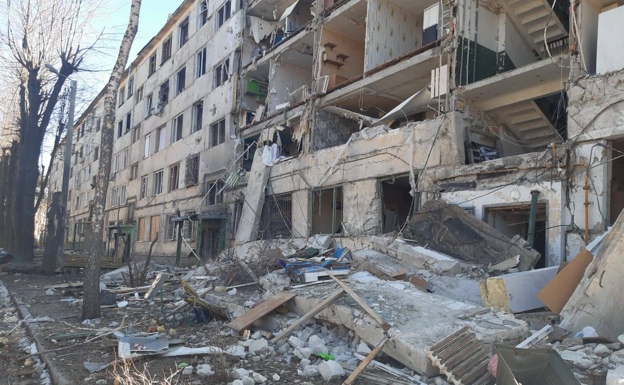 A Kharkiv apartment building that has been bombed.
Those who remain in Ukraine resist. "The humanitarian situation is bearable. It looks like the situation has stabilised," Maksym Levytskyi says. "Equipment arrives, military aid too. We have received 90 ambulances from Denmark; they provide crucial help in emergencies". Luckily, the city still has firefighters, rescue teams, police officers and soldiers. 
Back at his own home, Maksym Levytskyi looks at another building that bombs have destroyed. "We have no choice but to resist, to face the Russians. We cannot leave our country and let them take it." The war continues, and the Ukrainian people suffer every day.