Graduates of EUAM's management training to play central role in development of Annual Safety Programme in Merefa, Kharkiv region
May 31, 2017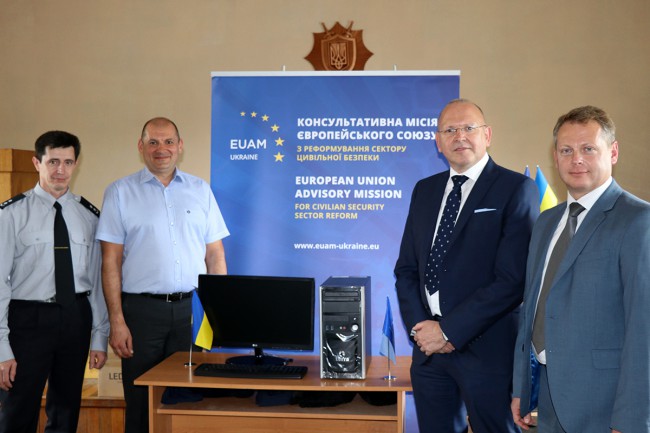 At a ceremony today to mark the end of a middle management training in Merefa, Kharkiv Region for managers from the Police, Public Prosecutor's Office and Security Service of Ukraine, the EU Advisory Mission Ukraine reaffirmed its commitment to assisting Merefa develop a Community Safety Strategy, applying EU best practice. The Mission also donated five computers and three printers to police stations in the Merefa district.
"Ukraine's new law enforcement and rule of law institutions will need inspirational leaders, and I congratulate the 16 participants of our most recent middle management training in Merefa on completing the programme," said William Brame, Acting EUAM Regional Coordinator in Kharkiv. "It is often in mid-sized towns such as Merefa where the impact of our work as a Mission is most felt, and through trainings such as these as well as the Community Safety Strategy, we hope to deliver a lasting change to the way policing is carried out in the Kharkiv region".
The Community Safety Strategy is being developed by EUAM for the Merefa district with local stakeholders under the coordination of the Governor's Office. The aim of the strategy is to build a strong working relationship with civil society to improve security and increase the trust of local people in law enforcement institutions. The lessons from this strategy will be applied to the development of a comprehensive Annual Safety Programme for the Kharkiv region.
As leaders in their respective organisations, the graduates of the Middle Management Training which took place from 29-31 May 2017 will now be expected to play a central role in implementing the Community Safety Strategy as well as the Annual Safety Programme for the Kharkiv region for 2018.  It is expected that the Annual Safety Programme for 2018 will be adopted by the end of 2017.