#EUAM4Ukraine: "Now wholly redeployed, EUAM experts continue building resilience with their Ukrainian counterparts"
October 07, 2022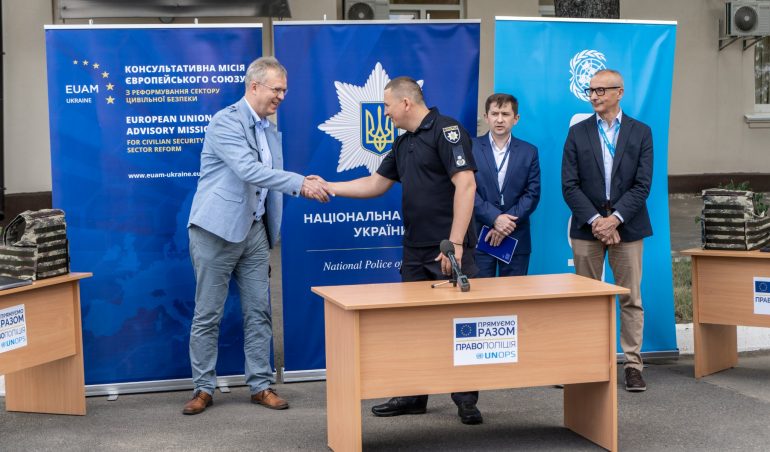 EUAM Ukraine is back! Today, the EU Advisory Mission in Ukraine (EUAM Ukraine) concluded the redeployment of all its experts to their duty stations. Close to 300 staff from EU member states and Ukraine now work full-time in Ukraine. They are determined to keep supporting the civilian security sector, building resilience in the face of the war, advising on the State's reform plan, and bringing the country closer to the EU.
Since its establishment eight years ago, the EU Advisory Mission (EUAM Ukraine) has never stopped standing by Ukraine in its pursuit of prosperity and independence to protect democracy, the rule of law and human rights. And the Russian invasion did not change that. When missiles and artillery struck Kyiv and other cities in February 2022, the Mission's headquarters temporary relocated to Moldova and then, during spring, to Poland. Still, it kept its field office in Lviv open all the time.
Three months later, in May, the Mission initiated the progressive field return of its experts after careful security considerations. Today, our bases in Kyiv, Odesa and Lviv, as well as travelling expert teams, ensure the outreach of our operations to the government-controlled area.
When the war started, we swiftly adapted our activities to provide direct support to law enforcement agencies to bolster their efforts to counter Russian aggression and deal with complex issues. With several initiatives, we have shown agility and adaptability in the context of the ongoing war.
All the Mission's project money (about 1.6 million euros) was, for instance, re-purposed for an emergency support package to law enforcement agencies to buy first aid kits, food rations and communication equipment. Besides, over 8 million euros worth of equipment was donated to Ukrainian counterparts via the EU-funded programme (PRAVO Police), which cooperated with EUAM. These donations included vehicles (pickups, light SUVs, vans), radios, IT equipment, uniforms, personal protective equipment (Bullet Proof Vests, Ballistic Helmets, Bullet Proof Shields), first aid kits, etc.
Russia's attack refocused our activities to help Ukraine to defend itself and support law enforcement agencies to protect citizens. But our pre-February mandate is also still in force, which means providing strategic advice and hands-on support for reforms in the Ukrainian civilian security sector. The war profoundly impacted our Ukrainian counterparts. Now wholly redeployed, EUAM experts continue building resilience with them around three priority work strands.
First, we have carried out border support activities since March 2022. Our Mission experts have advised on facilitating the flow of refugees and goods at the Ukrainian borders with Poland, Romania, and Slovakia. The Mission has also played an essential role in implementing the European Commission's ambitious "Solidarity Lanes" action plan, facilitating agricultural exports from Ukraine to EU countries. Over time, we observed significant improvements: we now have dedicated lanes for each category of trucks crossing the Polish border and consolidated cargoes to speed up the customs formalities to enter Roumania. We also contributed to the technical assessment of two upcoming border cross points with Romana, Krasnoilsk and Dyakivtsi, which will further improve Ukraine's transport connections with the EU.
Second, the European Union and EUAM consider it of utmost importance to establish accountability for the atrocities committed in the context of the Russian aggression. Given the unprecedented scale and number of investigations of these complex crimes, EU experts will, hand in hand with other international experts, support Ukrainian authorities such as the Office of the Prosecutor General (OPG) through specialised expert advice in conducting investigations and prosecutions. Thanks to the EU Member States, which put forward qualified experts in this field, the Mission will support the Ukrainian authorities in investigating international crimes.
Third, our support for intelligence and security services has shifted toward practical steps to aid resilience and link them up with EU partner organisations. The importance of counterintelligence has grown due to the high number of collaborators and sabotage groups.
Since February 24, Ukraine has profoundly changed. Until the war ends, Ukrainian martial law will give extra power to the National Security and Defence Council and law enforcement agencies. That is why the Mission is already in an expert dialogue with the Ukrainian government to develop an overarching strategic plan for the Ukrainian civilian security sector reform. In the coming months, we will have a further strategic assessment of how the Mission can best support Ukraine when security has become an existential matter for your country and its citizens.
Ukraine's EU candidate status puts the cooperation between Ukrainian civilian security services and EUAM Ukraine on a new level. We congratulate our Ukrainian partners: granting candidacy status is the public recognition by the European leaders of the successful reforms driven by Ukraine in the past decade. But the EU still expects further progress, and the upcoming times will be decisive.
The war against Ukraine changes Europe and the wider world. Ukrainians defend not only their home country but also Europe and the rules-based international order. EUAM Ukraine will stand shoulder-to-shoulder with its law enforcement partners on Ukraine's path towards victory and becoming a full member of the European Union.
Antti Hartikainen
Head of the EU Advisory Mission
This opinion piece was originally published in Ukrainska Pravda on 07 October 2022