EUAM presents benefits of restorative justice as a new way of solving conflict
November 06, 2020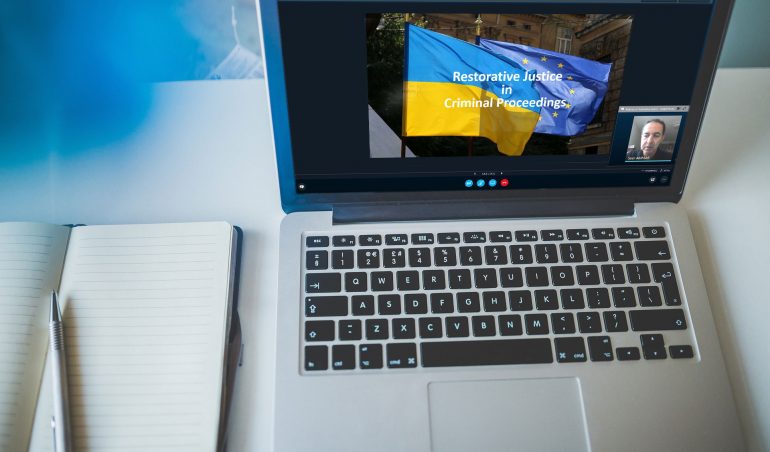 Restorative justice – a new concept of conflict resolving for Ukraine – was introduced during a webinar for students of the Kharkiv State University of Internal Affairs this week. Over 50 cadets and lecturers learned more about this relatively new international practice in criminal proceedings.  
"Restorative justice is an alternative response to crime and social disorder, which balances the needs of community, victims and offenders. This approach emerged from dissatisfaction and frustration with the formal justice system", said  EUAM's Advisor on Rule of Law at the mission's Kharkiv Field Office, Saer Ammar.  "It provides sides of a conflict and the surrounding community with an opportunity to resolve the conflict. Moreover, the role of a community in conflict-resolving is not abstract, but rather direct and concrete".
There many types of restorative justice programmes. One of them is mediation, which offers victims an opportunity to meet offenders in a safe setting and engage in a mediated discussion of the crime. With the assistance of a trained mediator, the victim is able to tell the offender about the crime's physical, emotional and financial impact. The programme operates in the pre-charge stage and requires the willing participation of both victim and offender. It also can lead to sentencing recommendations.
Another restorative-justice programme is community and family group conferencing. This model was applied in the youth justice process in New Zealand in 1989. It is based on the old sanctioning and dispute resolution traditions of the Maori. This model is also used in Ireland and South Africa. It brings together the family and friends of the victim and offender to participate in a professionally facilitated process to identify desirable outcomes. It addresses the consequences of the crime and explores ways to prevent its repetition.
The circle sentencing programme is conducted in aboriginal communities in Canada. All participants including judge, defence counsel, prosecutor, police officer, victim, offender and their families sit facing one another in a circle. Circle sentencing is only available for those offenders who plead guilty. Discussions are designed to reach consensus on the best way to resolve the conflict taking into account: protection of the community, needs of the victim and rehabilitation/punishment for the offender.
Other methods of restorative justice include reparative probation programmes and 'peacemaking circles'. Restorative practice is a new field of study that has the potential to positively influence human behavior and strengthen civil society around the world.