EUAM gives a stronger voice to Ukraine's Prosecution Service  
April 19, 2021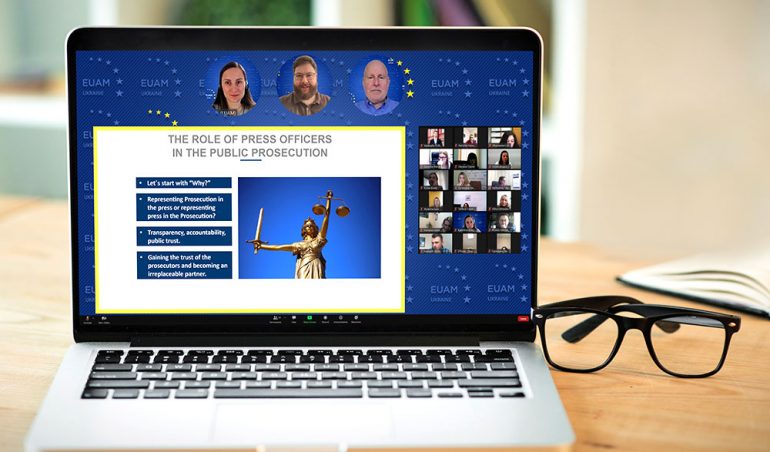 For the past three months, the Mission's Strategic Communications Unit has been working to enable press officers from the Office of the Prosecutor General and regional prosecution offices to strengthen the media interaction skills of hundreds of prosecutors across Ukraine.
The level of public trust in the Prosecution is an essential indicator of how well the reform of the Ukrainian Prosecution Services is evolving. Openness, transparency, accountability, and clear and timely communication are crucial enablers of the reform process, and as such in raising the public trust level from the current low level of 14%.
To build stronger media interaction skills among prosecutors across Ukraine and enable them to deliver more consistent and clear public messaging, the EUAM StratComms Unit has transformed a two-day classroom course to a month-long online course. The course is delivered over four weeks with two weekly two-hour lessons. The course has been delivered by the EUAM StratComms Unit within the PRAVO-Police programme, which is funded by the European Union and implemented by UNOPS.
"The course has significantly increased my knowledge in the field of communications. During the practical exercises, I was able to understand what I was doing right and what still needed to be improved. I am sure that the course will be useful to everyone who wants to learn how to interact effectively with media. It reveals the hidden nuances of communication in a systematic and accessible way, based on many years of experience of the EUAM trainers," explained Nadiia Maksymets, Press Secretary of the Kyiv City Prosecutor's Office.
At first, the press officers are offered two training-of-trainers lessons, where basic instructor skills are taught, before moving on to three media interaction lessons aiming at improving and professionalising their media engagement skills. The training concept aims to empower the press officers to cascade the media interaction training to several hundred prosecutors in the regions and centrally in Kyiv.
"The exercises we performed during the course made it clear to me, that no matter how difficult a situation is, having proper knowledge and the right communication skills, can solve it. Message development, preparing for interviews, building 'bridges' are basic factors which help me in my everyday work and are indispensable in difficult situations," said Ms Maksymets.
The course has been coordinated with the Prosecutor's Training Center of Ukraine. To ensure the right level and relevance of the training concept, a pilot course was conducted in early 2021. The feedback received from the participants was overwhelmingly positive, leading to very few modifications to the current course cycle, which is due to be completed by the end of April.