EUAM experts present Ukrainian prosecutors with trial advocacy handbook
July 08, 2021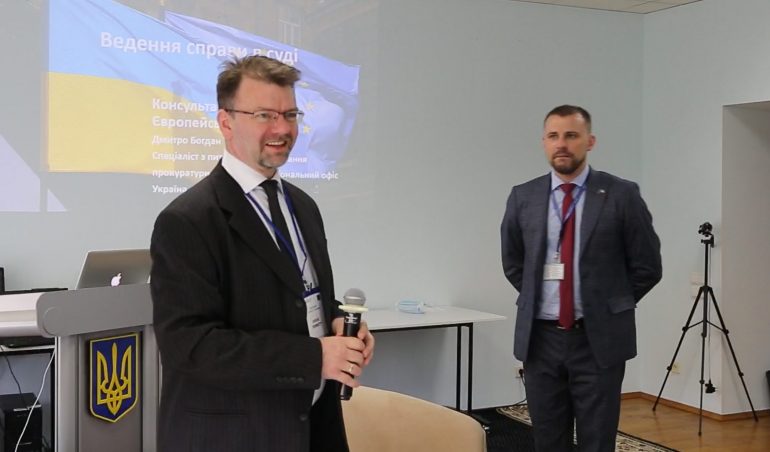 The European Union Advisory Mission (EUAM)  presented a trial advocacy handbook to the training centre of Ukraine's Prosecution Service, following a week-long training on trial advocacy for aspiring trainers. The aim of the course was to improve courtroom advocacy, borrowing in particular from the renowned 'Hampel Method', a technique developed by the Justice of Australia's Supreme Court, George Hampel, over 40 years ago.
The training was delivered by EUAM experts together with Dr Steve Terrett, barrister of England and Wales, Cambridge University Professor, PhD, and Director of the British Law Centre. The training course will be added to the Ukrainian training curriculum as part of the initial, in-service and vocational training of prosecutors.
In future the  course will be transformed into an e-learning module to ensure long-term sustainability and strengthening the capacities of prosecutors in Ukraine.  The wider impact of the project is intended to be the improvement of the courtroom advocacy in Ukrainian criminal trials, and to further the fair trial principle.
The training was attended by representatives of the Prosecutor General's Office, the Specialised Anti-Corruption Prosecutor's Office, and prosecutors from Ukrainian regions. It was delivered within the framework of the 'Support for Rule of Law reforms in Ukraine in the areas of Police and Public Prosecution and Good Governance' (PRAVO Police) project, which is funded by the European Union and implemented by UNOPS in close coordination with EUAM.