EUAM brings together SSU and Europol in the fight against terrorism
December 07, 2020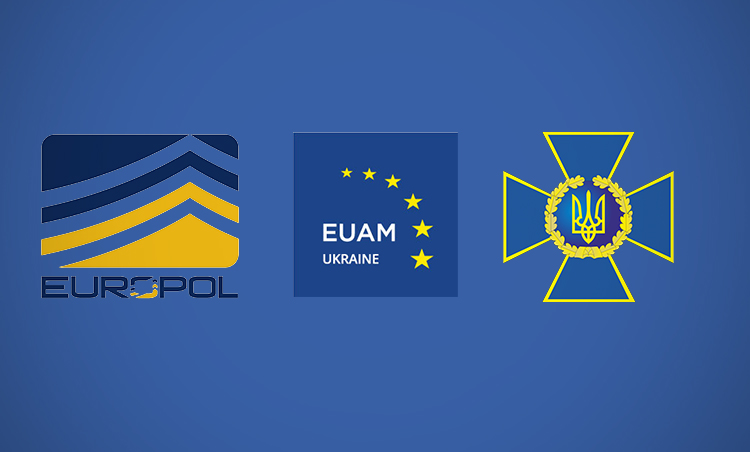 Last week, the EU Advisory Mission in Ukraine (EUAM Ukraine) organised a strategic two-day webinar between representatives from the Security Service of Ukraine (SSU) and the European Union Agency for Law Enforcement Cooperation (Europol) on fighting terrorism. The Mission was able to use its role to bring these two actors together and explore opportunities for future cooperation. EUAM Senior Adviser on Counterterrorism, Benjamin Boulay, here answers a few questions on the role the Mission played and why Ukraine is such an important country for EU security.
After this two-day awareness webinar between SSU and Europol, what is your main feedback?
Benjamin Boulay: This webinar was definitely an unprecedented meeting for the two actors. SSU and Europol were eager to establish this first contact and now we can consider a strengthened collaboration in the future. There were around twenty participants from both sides, and they all expressed their great satisfaction at the end of the webinar.
On one side, Europe was able to present its Counter Terrorism Centre (ECTC) and SSU also shared how the Ukrainian system of counterterrorism works and what are the challenges the country is actually facing.
In a few words, how would you describe the Europol agency?
BB: Europol is the European Union's law enforcement agency. It supports the 27 EU member states in their fight against terrorism, cybercrime and other serious and organised forms of crime (drug trafficking, money laundering, counterfeiting of euros, trafficking in human beings, cigarette smuggling, facilitated illegal immigration, intellectual property crime, etc.).
Europol also works with several non-EU partner states and international organisations, including Ukraine with whom Europol has entered into an association agreement —a representative of the National Police of Ukraine (NPU) sits permanently at Europol's headquarters in The Hague, Netherlands.
To achieve its mission, Europol has developed very advanced products in the field of criminal analysis that are available to European countries and other partners.
SSU is a key element in the whole Ukrainian civilian security sector reform. How does Ukraine work to support this process?
BB: SSU's reform is indeed a central topic for many actors in the Ukrainian civilian security sector and lies at the core of EUAM's mandate. Within the mission, a dedicated and cross-cutting task force has been set up, gathering representatives of all the components involved in this topic.
Externally, the Mission maintains a dialogue with all relevant actors, SSU's management and parliamentarians from the National Security and Law Enforcement committees to begin with. EUAM is also part of the working group, made up of all Ukrainian and international stakeholders, that meets regularly to elaborate the text of the law. On several occasions, the Mission has provided its analysis and comments on the draft law. EUAM, along with NATO and the Embassy of the United States, is also a member of the international advisory group dedicated to the reform.
Eventually, EUAM complements its strategic advice activity by providing a package of support actions to SSU. The webinar that has just been organised with Europol's ECTC is one of them.
How can national authorities mitigate the risks related to terrorism?
BB: The manifestations of the terrorist threat differs greatly from one European country to another. As regards, Europol makes a distinction between jihadist terrorism —the recent attacks in France or Austria for instance—, ethno-nationalist and separatist terrorism —e.g. activities of the New Irish Republican Army in the UK—, left-wing and anarchist terrorism —in Greece, Italy or Spain for example—, right-wing terrorism —active in Czechia, France, Germany, Italy and the Netherlands— and single-issue terrorism —e.g. terrorist activities linked to the defence of animal rights.
"Integrated approach, coordination, involvement of civil society and strong democratic safeguards are key pillars of a solid counter-terrorist policy" (Benjamin Boulay, EUAM Senior Adviser on Counterterrorism)
Fighting against terrorism is a very complex issue. Obviously, it involves giving the specialised state agencies effective means to arrest the perpetrators of such acts, preferably before they take action. However, the repressive approach cannot be the only answer to terrorism. If so, it may even become counter-productive, leading to abuse, violations of human rights and, in the end, to renewed terrorist violence. Terrorism always has deep causes rooted in history, the geopolitics and the general state of society. Consequently, mitigating the terrorist risk in the long run also implies developing broader policies in the field of education, justice, social welfare and so on, to prevent the rise of violent extremism. An integrated approach, coordination, the involvement of civil society and strong democratic safeguards are key pillars of a solid counter-terrorist policy.
According to you, on what aspect could SSU benefit from EU support on counterterrorism?
BB: SSU has shown its interest in the analysis tools developed by Europol's ECTC in the field of fighting against finance terrorism, foreign terrorist fighters and online propaganda. Beyond this, it is important, both for Ukraine and for the European member states, that the service and its European partners draw closer and share a common vision of counterterrorism. Europol seems an ideal place to build this shared perception and trust.
"Terrorism is by essence a cross-border phenomenon that requires an intense international cooperation between internal security and secret services" (Benjamin Boulay, EUAM Senior Adviser on Counterterrorism)
From your personal experience, why is it important that countries work in a collaborative manner on sensitive topics like internal security or secret services?
BB: Internal security and secret services are by essence topics inseparable from national sovereignty but that does not mean that these services should not collaborate with their foreign counterparts. Let us take the jihadist terrorism: European citizens who have left their home country to fight alongside ISIS or Al-Qaeda in Syria or Iraq, Jihadist fighters from war zones coming to Europe to perpetrate attacks etc. This is by essence a cross-border phenomenon that requires intense international cooperation between internal security and secret services.
In Europe or in Ukraine, what are the challenges that most of law enforcement agencies face on their fight against terrorism?
BB: This is a very broad question! When it comes to terrorist threats, each country has its own peculiarities. Having said that, a common concern of Europe's law enforcement agencies regarding terrorism is the development for several years now of a so-called "homegrown" or "endogenous" terrorism, e.g. citizens who perpetrate acts of terror against their home country in the name of a jihadist ideology. A major challenge for the national services in charge of fighting against terrorism is then to detect these individuals before they take action. That implies the development of solid analytical capabilities but also a commitment of all national institutions and the civil society for the prevention of violent extremism.
Ukraine has concerns of its own. SSU is involved in the fight against jihadist terrorism and regularly arrest ISIS terrorists using Ukraine as a shelter or transit country. However, SSU's main concern regarding terrorism remains the fight against the separatists who violate the territorial integrity of the country.
After this awareness seminar, what will be the next steps?
BB: Undoubtedly, EUAM will go on with supporting the elaboration of the draft law on SSU through providing strategic advice, which is at the core of its mandate. EUAM will also go on providing SSU with capacity-building support. Our goal, if the sanitary context enables it, is to extend the webinar that has just taken place with a study trip to Europol's Headquarters in the Netherlands, in order to further deepen the links between SSU and the European agency.
EUAM supports the Security Service of Ukraine Reform
EUAM Ukraine supports the transformation of SSU into a modern, depoliticised and demilitarised service under effective civilian and democratic oversight and functioning in line with the Law on National Security (LNS) and the recently adopted National Security Strategy (NSS).
The vision of a modern SSU set out in this document is that of a strong, dynamic, flexible, focused, accountable and interoperable security service, staffed with highly qualified specialists, equipped with modern facilities and technical equipment. SSU should have clearly defined, delineated, and focused tasks as set out in the Law on National Security: counterintelligence, counterterrorism and protection of state secrets.