EUAM and Kropyvnytskyi police take first steps in reform 'experiment'
November 28, 2018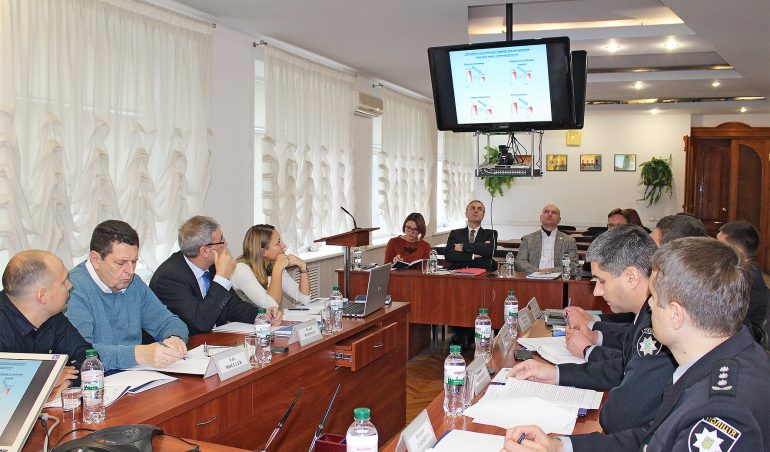 Experts from the EU Advisory Mission (EUAM) this week travelled to Kropyvnytskyi to finalise the planning for an ambitious regional police reform experiment that will involve structural changes to police work in the region over the next six months.
The start of the experiment comes after several months of assessment carried out by EUAM staff – and in particular its Mobile Unit – in Kropyvnytskyi region. It also follows an order issued by the Minister of Internal Affairs, Arsen Avakov, earlier this month to introduce new methods of work in Kropyvnytskyi (formerly Kirovograd) from 20 November until 31 May next. EUAM staff was this week working with its police counterparts in Kropyvnytskyi to elaborate a work plan for the experiment, which will be submitted to the Head of the National Police, Sergei Kniazev, on 10 December.
Mr Kniazev will report back to Minister Avakov for evaluation of the experiment at the end of May, after which EUAM hopes a positive assessment of the 'model' concept will be replicated in other parts of the country.
"We are launching this pilot project together with the NPU to assist them to increase efficiency and to increase public trust in the police," said Udo Moller, Head of Operations at EUAM. "We agreed today with Kropyvnytskyi police to introduce a performance evaluation system that will consider basic needs on the ground based on criteria used in EU countries. This is the first step in our joint intensive work."
Throughout the six-month implementation period, EUAM experts will be on hand to support a range of reform measures for Kropyvnytskyi police, namely an efficient management system, an organizational performance evaluation system, and streamlining of structures and the decision-making process. EUAM will also be initiating training programmes, donating equipment and facilitating coordination between police and civil society in the region.
Kropyvnytskyi region has a population of approximately one million people, who are served by just over 2,000 police officers.