EUAM and High Council of Justice insure safe courts during COVID-19
April 22, 2021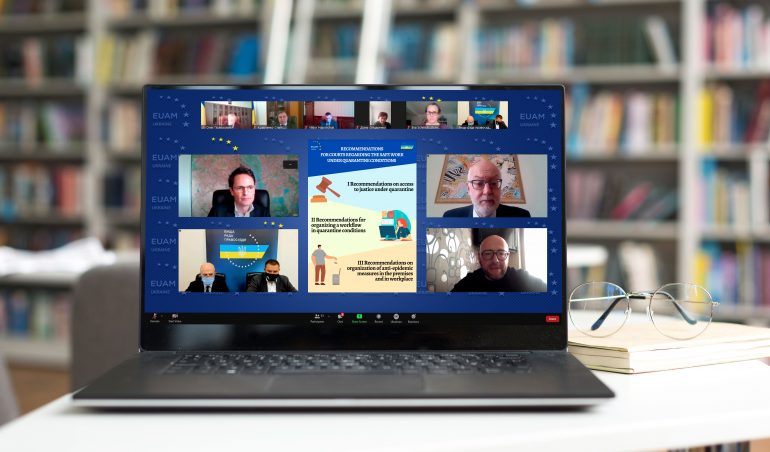 This week, the European Union Advisory Mission (EUAM) and Ukraine's High Council of Justice presented unified recommendations on for all courts of Ukraine on safe operation during quarantine restrictions. 
The document consists of 33 provisions and provides recommendations:
 – on access to justice under the quarantine
 – of organising a workflow in quarantine conditions
 – on organisation of anti-epidemic measures in the workplace
Up to 200 representatives of judicial institutions from all over Ukraine joined the online presentation yesterday, along with the Office of the United Nations High Commissioner for Human Rights and the World Health Organization.
Courts have to insure uninterrupted work and access to justice for all despite the pandemic.   Quarantine measures bring up a variety of procedural questions and challenges. A balance needs to be struck between the right to access to justice, the right to have one's case heard without undue delay, but also the vital interests of those working within the wider judicial system to be healthy and not to be exposed to health risks.
"Like on many other areas of life, Covid-19 has taken a heavy toll on the judiciary too," said  Fredrik Wesslau, Deputy Head of EUAM. "The recommendations are to serve as a common point of reference and to provide legal certainty for everyone. They are to give a guidance on procedure as well as individual behaviour. This can only work if recommendations are widely accessible, so it is essential that they are widely shared and well visible to court workers and visitors."
"The recommendations are aimed at providing access to justice for all citizens, and at the same time, insuring safe working conditions for judges, their assistants and all participants of court hearings," said Oleksii Malovatskyi, acting Head of the High Council of Justice.  
The recommendations will be implemented up 700 courts in Ukraine and affect the daily work of 5,400 judges and 25,000 court staff, as well as thousands of lawyers, prosecutors and employees of the Court Security Service.