Equipment worth €13,000 to aid learning process at police training centre in Lviv
June 01, 2017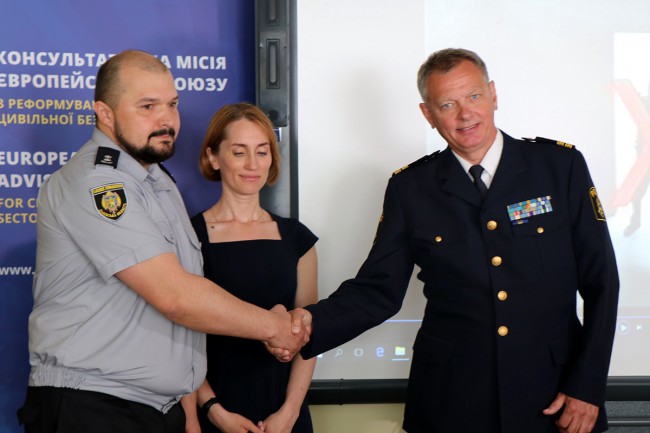 The European Union Advisory Mission (EUAM) Ukraine today handed over equipment worth €13,000 to the Regional Training Centre of the National Police of Ukraine (NPU) in Lviv Region.
The donated equipment – laptops, software, projectors, interactive boards, printers and flipcharts – will be installed in classrooms of the Centre in order to enhance in-service training capacities of the Lviv police, and in particular improve the delivery of interactive trainings and ensure their sustainability.
EUAM's Regional Presence Team in Lviv provides comprehensive support for partners in the region. "The donation is just a part of our fruitful cooperation with the National Police in the oblast, as we support the agency with trainings, strategic advice and equipment, as well as implement joint projects," said the Mats Ljungwald, EUAM Regional Presence Coordinator.
"The learning process, and improving techniques and skills should never stop for police officers as these efforts are a vital part of the reform which aims to make the police a more service-oriented law enforcement-agency that is effective and enjoys public trust."
Since 2016, EUAM has donated forensic, IT and educational equipment to the National Police of Lviv region and the National University of Internal Affairs in Lviv worth over € 100 000.