Danish and Portuguese police give Donetsk officers flavour of life under lockdown
June 12, 2020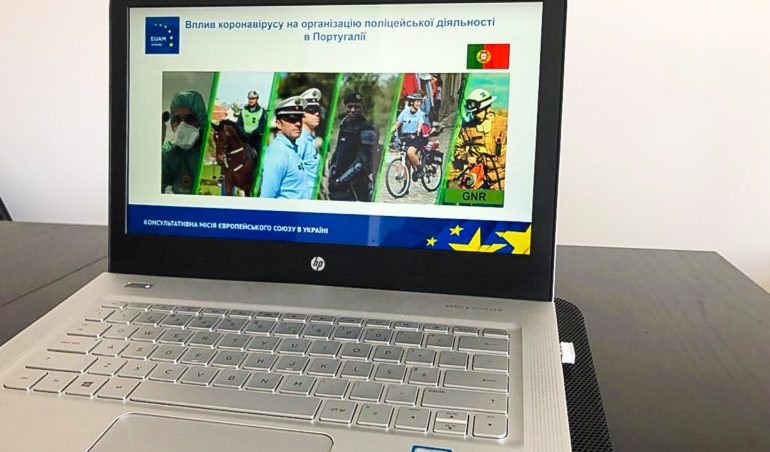 As Covid-19 restrictions are relaxed around Europe, the European Union Advisory Mission (EUAM) yesterday arranged for its police experts from Denmark and Portugal to give an insight into how the pandemic has impacted police operations in those countries. Participants in the webinar included 40 police officers from the Patrol Police Department in Mariupol and Kramatorsk, and from the Main Department of the National Police in Donetsk Region.
During the lockdown, Portuguese police did not fine people for violations, but people were not allowed to move between districts during festive celebrations or the Easter holidays. Unlike Portugal, Denmark did not declare a State of Emergency, but the country did pass strict pandemic legislation, which many perceived as the toughest  since World War II. The 14-day isolation was only a recommendation for Danish citizens. Nevertheless, the new pandemic legislation allowed the Danish authorities to apply forced isolation or to track infected people if the situation should get out of control. The Danish authorities provided hotel rooms for those who were not able to self isolate themselves.
Both countries had to reorganise their police activities: through extended shifts, physical division of personnel, and intensified disinfection. The Portuguese Gendarmerie GNR even gave up their berets during the pandemic, to minimize transmission of the virus. The Danish Police didn't wear face masks, because they concluded that their effectiveness is not proved scientifically, but officers did follow strict social distancing rules, with their faces open for citizens to see.
In Portugal, drones were used to keep citizens informed. Police used tablets to connect elderly people with their families in other regions via video conferencing. Officer had to complete tasks they had never undertook before, such as food delivery, medicine for the elderly, and even homework for kids. One of the most challenging tasks for all police forces in Europe was to give up the traditional handshake and replace it with the elbow greeting.
"The key to effective police performance is good cooperation with citizens. A total of 840 tickets were issued during the whole period of quarantine in Denmark. This is not much for the whole country. We used dialogue and guidance, instead of fines and it seems to have worked well," said EUAM Community Policing Advisor, Flemming Konstantinidis. "It is also important when the authorities speak with one voice: police, government, the Ministry of Health etc. Now, the Danish Police has the authority to issue prohibition orders for areas with mass gatherings of people. You can enjoy the company of no more than 10 people in Denmark."
"We have to adapt our work to the new realities every day," said Goncalo Carvalho, EUAM Advisor on General Policing. "We should now evaluate lessons learnt and become more resilient in order to fight this threat. We have reset our operational priorities with and had to learn to adapt quickly".