Upcoming Odesa remembrances call for communicative approach to public order
March 27, 2018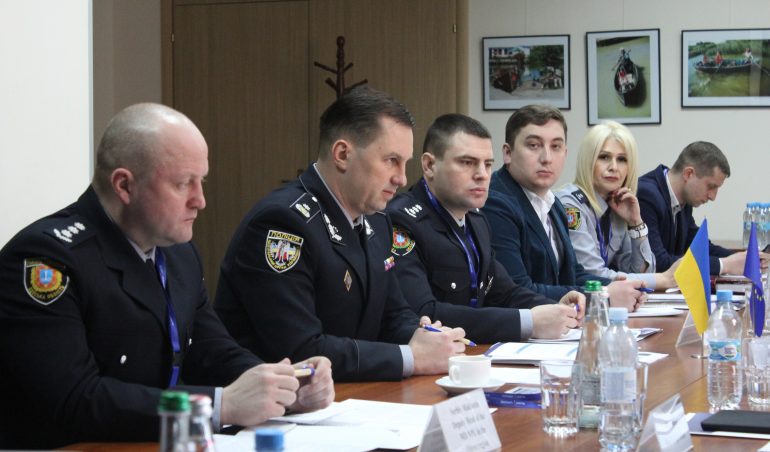 As Odesa prepares to mark three upcoming events, which have in the past proven divisive for local society, the EU Advisory Mission Ukraine (EUAM) is advising local stakeholders on how to ensure that people enjoy their democratic rights to assemble peacefully, while at the same time preventing differences of opinion from spilling over into violence and public disorder.
The three anniversaries in question are the liberation of Odesa from Nazi occupation (10 April), the deadly clashes in Odesa in 2014 (2 May) and Soviet Victory Day (9 May). In previous years, commemorations of these events have been controversial, exposing and sometimes further deepening divides that exist in local society.
At a workshop in Odesa today with the senior management of the Odesa Main Department of the National Police of Ukraine, EUAM Head of Mission Kęstutis Lančinskas said, "In a democratic and free society, the right to free speech is protected and supported by the constitutional right to freedom of assembly. The task of the police in a democratic state is to make sure that these rights are protected and facilitated by the police, so that they can be expressed in a safe and secure manner for participants and other citizens".
Mr Lančinskas added that a key element in ensuring demonstrations take place peacefully is providing police officers with the right knowledge and training to differentiate between the intentions of different sections of crowds. "With the right knowledge about crowds, crowd psychology and different groups in society, with dialogue and a communicative attitude, it will be easier to differentiate between participants who are using their constitutional rights in a peaceful manner and those whose intent is to create riots, vandalism and undermine democracy".
Today's workshop rounds off an intensive period of training sessions and meetings in Odesa organised by EUAM. On 20-22 March, the Mission organised a training in 'dialogue policing', which is a concept that trains police officers in how to communicate with the public and be the communication link between the police command and organisers and participants of various public events. On 23 March, EUAM organised a lively, but peaceful roundtable meeting with members of Odesa civil society, some of whom have diametrically opposing views on the various anniversaries. Advice has also been provided to the police in how to develop internal and external communication before, during and after public events in order to keep the public informed.
EUAM is advising a 'No surprises' approach to be the guiding principle for operations. This approach to public order stresses that fundamental rights will be protected, but action will be taken if somebody commits an offence.