Ukrainian police learn about modern crime scene management in EU
July 16, 2018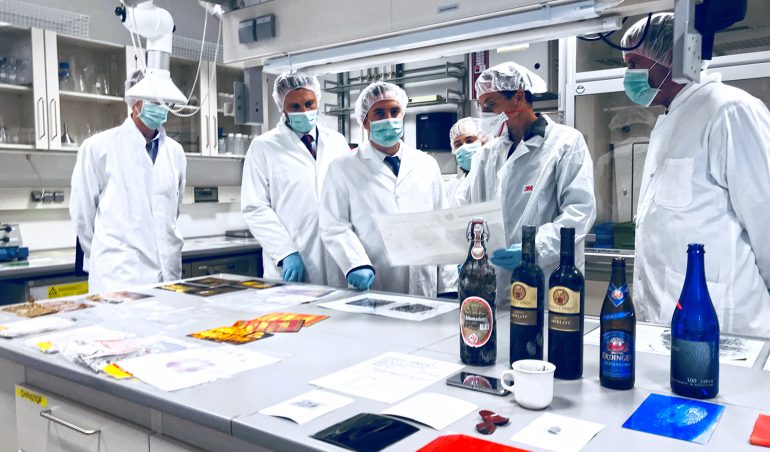 The EU Advisory Mission (EUAM) Ukraine organised a trip for Ukrainian inspector-criminalists to the Netherlands and Germany between 8-11 July 2018 so that they could find out more about best practices in crime scene management. Inspector-criminalists are police officers who are trained in specific crime scene management skills to assist investigators gather evidence. They visited the modern police facilities in Venlo, the Netherlands, Monchengladbach and Düsseldorf, Germany, where they were given an explanation of thecrime scene managementtechniques and tools used there.
"This kind of visit provides an opportunity to advance and improve the investigative work of the National Police of Ukraine's inspector-criminalists, in particular during the inspection of a crime scene," said  Roman Proskurnia, the Deputy Head of the Criminalistics Support Unit of the Main Investigation Department of the National Police of Ukraine (NPU). "We had an opportunity to observe the way that work is organised, forensic equipment is used and the clear delineation of tasks in Germany and the Netherlands. This is key to achieving a high quality and fair investigation of crimes. We will make the greatest possible efforts to see this model applied in Ukraine".
 The programme for the trip included information on how the police in the Netherlands and Germany secure forensic evidence and avoid contaminationand destruction of the traces at a crime scene. They toured a dactyloscopic laboratory where fingerprints are analysed and a chemical laboratory where gunshot residues and explosive devices are tested. They were given specific advice on handling serious and fatal traffic accidents and also shown a mobile forensic laboratory, which is a van which contains equipment for managing a crime scene and gives the police the ability to react and secure a crime scene more quickly.
 "I've been very fortunate to work with highly talented inspector-criminalists in Ukraine," said Ulrich Bolten, Adviser/Trainer on Criminal Investigations. "Many however lack the opportunity to use the very latest criminal investigation techniques. At EUAM, we're supporting the police to bridge this gap, so that our counterparts in Ukraine are more aware of the range of tools they can use to investigate a crime".
 Currently, EUAM is supporting a significant training programme across the whole of Ukraine for inspector-criminalists of NPU and is also providing equipment to assist police mobile criminalistics laboratories as well as the Academies of Internal Affairs.