EU Advisory Mission Ukraine supports a field session in Zakarpattia for a Parliamentary committee
September 16, 2021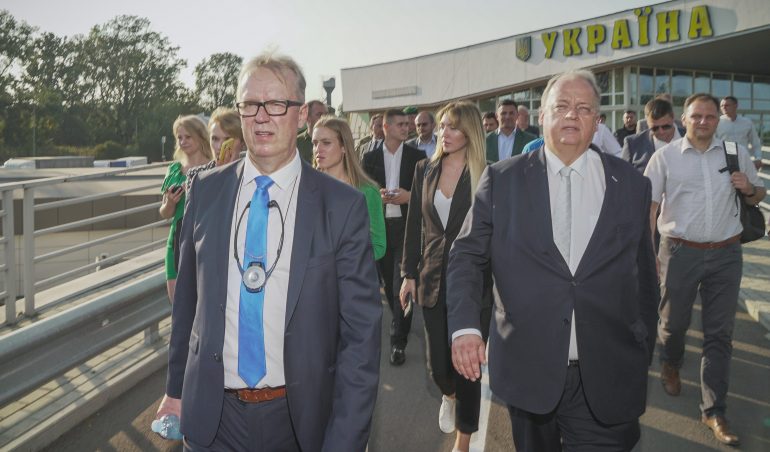 On 15-16 September, the Verkhovna Rada Committee on Ukraine's integration into the European Union paid a visit to Zakarpattia region, courtesy of EU Advisory Mission Ukraine (EUAM).
As part of the visit, the committee members, accompanied by the EUAM representatives, visited border-crossing points, where they discussed several issues with the representatives of State Border Guard Service, State Customs Service and local authorities. Among topics discussed were:
border-crossing points capacity and infrastructure, smuggling and corruption prevention;
the reform of customs services in line with EU and NCTS standards;
the use of scanners for cargo inspection.
In addition, the Committee held a special meeting attended by the specialized Deputy Ministers, representatives of specialized central executive bodies, local authorities, EUAM, EU technical assistance projects, foreign consular institutions operating in Zakarpattia, diplomatic missions of Ukraine in the neighbouring countries, International Organization for Migration and Ukrainian NGO's.
The following issues were discussed at the meeting:
Integrated Border Management Strategy implementation progress and EU support;
customs reform in line with the EU standards;
Zakarpattia engagement in trans-border cooperation programs and progress of their implementation.
"What happens in the regions is crucial for Ukraine's progress. Strategic approach to reform depends on effective coordination between Kyiv and the regions", noted EUAM Head Antti Hartikainen. – EUAM Field Office in Lviv is now in the process of expanding its activities to all seven regions of Western Ukraine, including Zakarpattia. EUAM strives to adapt its work in each region. Integrated Border Management and combating trans-border crime are especially important for this part of Ukraine. These topics are among EU priorities, as they are closely linked to the safety of the EU and visa-free regime, which Ukrainians enjoy today."
"It is important that we conducted this meeting attended by the representatives of central executive bodies and local authorities, as well as our European partners, following our field visit to the border-crossing points", said Ivanna Klympush-Tsyntsadze, Head of Parliamentary Committee on Ukraine's integration into the EU. "This allowed us to cover extensive range of topics. While simpler issues could be tackled by the respective local or central authorities, more complex issues need to be tackled at the legislative level and in close cooperation with our partners through international agreements. I hope that this field visit will boost such legislative work and will allow the Parliament to perform its controlling role more effectively."