Odesa roundtable tackles topic of organised crime and trafficking in human beings
March 16, 2018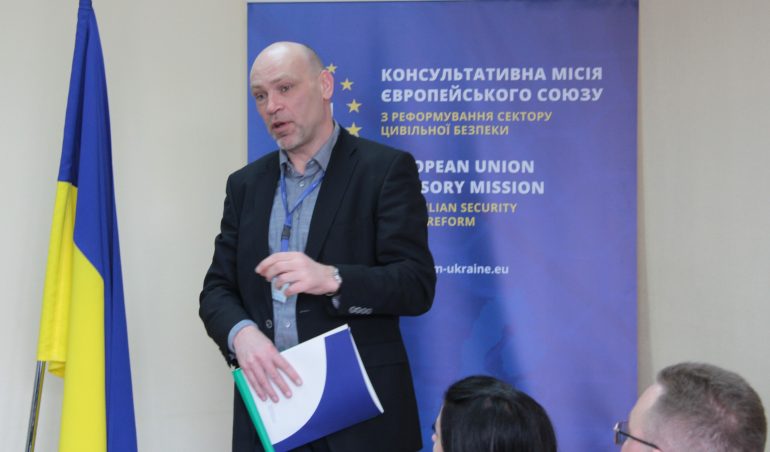 A half-day roundtable discussion in Odesa today organised by the EU Advisory Mission Ukraine brought together representatives of regional police, prosecutors, lawyers and academics to share experience on how to strengthen the fight against organised crime and trafficking in human beings.
As a port city close to international borders, Odesa is a major regional centre for organised crime, trafficking in human beings and modern slavery. EUAM is working with its partners in the Odesa Regional Police, Odesa Regional Prosecution Office, Odesa State University of Internal Affairs and Odesa Regional Bar Association to propose concrete solutions to address the problem.
"The roundtable was organised because of the high public demand for greater action on organised crime and trafficking in human beings. Some of the stories we hear about victims of this trade are truly heart-breaking. To fight against these appalling crimes, a number of changes will be needed in the way that these crimes are investigated and prosecuted," said Gediminas Buciunas, EUAM Senior Adviser on Prosecution.
"First, there needs to be greater cooperation between the police and prosecution. Second, there needs to be a reduction in bureaucracy for criminal investigators and prosecutors so they can get on with the job the public expects them to do. Last but not least, there needs to be greater public awareness about how evidence of crimes can be passed to investigators and confidence that witnesses will be protected. In all these areas, best practices from EU countries will be helpful in developing Ukrainian solutions to this problem," Mr Buciunas continued.
EUAM's Regional Presence in Odesa officially opened on 7 March 2018. Supporting more effective criminal investigations is one of its major priority areas.