National Police demonstrates 'high level of professionalism' in managing 2 May Odesa commemorations
May 03, 2019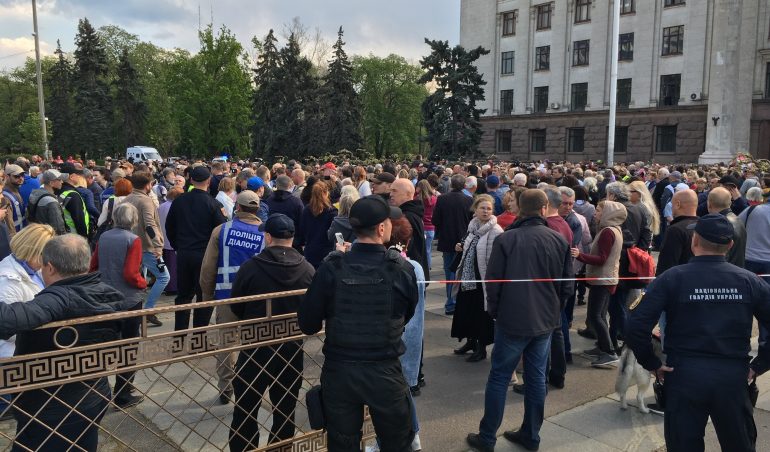 Law enforcement officials in Odesa succeeded in their efforts to ensure that this year's commemorations of clashes in Odesa on 2 May 2014, during which 48 people lost their lives, took place peacefully.
"The National Police of Ukraine and the regional authorities demonstrated a high degree of professionalism in managing a challenging day, which in previous years has descended into violence," said Udo Moeller, EU Advisory Mission Ukraine (EUAM) Head of Operations. "Despite the fact that there were groups of people with conflicting views taking to the streets, the police managed through the use of modern European public order policing tactics, including dialogue policing, to ensure that freedom of expression was protected and the level of violence was minimal".
EUAM has worked closely with law enforcement officials in Odesa to support the modernisation of the police in line with European best practices. Both this year and last, the Mission supported open dialogue between law enforcement agencies and members of civil society before the 2 May commemorations and other large events in order to demonstrate that all sides have a common interest in gatherings taking place peacefully.
Moreover, 68 members of the dialogue police, a new unit created to deescalate tensions at demonstrations were deployed in Odesa yesterday. Many of these had received training from EUAM.
Nationwide, EUAM has trained over 800 Ukrainian police officers in public order policing techniques to support efforts to ensure that the right to public assembly at demonstrations is protected, but that such events also take place peacefully. The Mission will continue its efforts in assisting Ukraine in implementing European best practices in managing public events.