Police-civil society workshop in Odesa region produces new citizen advisory groups
August 13, 2020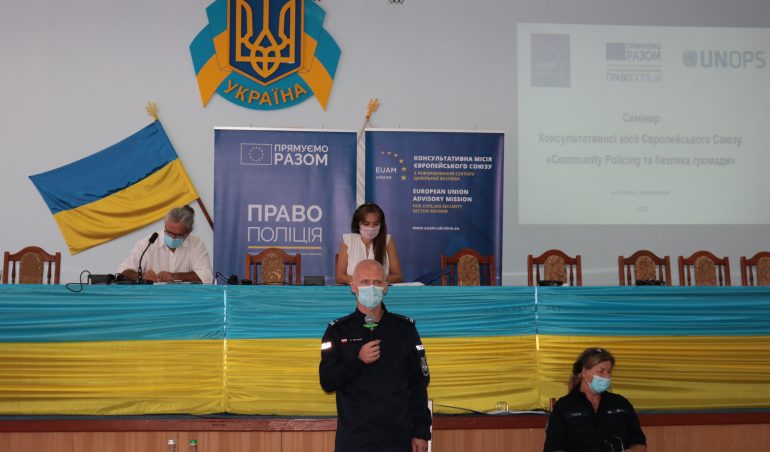 This week, the Head of Bilhorod-Dnistrovskyi District State Administration (Odesa oblast), hosted a workshop on community and safety policing with 22 representatives of local authorities, the police station, amalgamated communities and other local organisations. Facilitated by the European Union Advisory Mission (EUAM) experts and organised by the United Nations Office for Project Services (UNOPS), the activity is part of a series of workshops led in different regions of Ukraine in the framework of the 'PRAVO Police' project to raise problem-solving skills and enhance cooperation between local law enforcement agencies and civil society.
Along with other trainers from the National Police of Ukraine (NPU) and UNOPS, EU experts shared best European practices on community policing and problem-solving theories and techniques. During group exercise sessions, all the participants worked together on identifying major community safety concerns, analysing the root causes of those and recommending solutions to address them.
"The local police present, the local authorities, the citizens and NGOs, they all come together to talk about their safety concerns to act after," explained the EUAM Senior Advisor on General Policing, Georgios Pokas. "Discussing these concerns makes them realise they need to look for local solutions for local problems – before they become bigger problems."
At the end of the workshop, the participants decided to create two citizen advisory groups (CAGs) for Bilhorod-Dnistrovskyi city and Shabo amalgamated community. EUAM experts will now support the establishment of the two CAGs with new community policing activities in the area in mid-September 2020.