EUAM congratulates Odesa authorities for dialogue promotion efforts in advance of May commemorations
April 26, 2018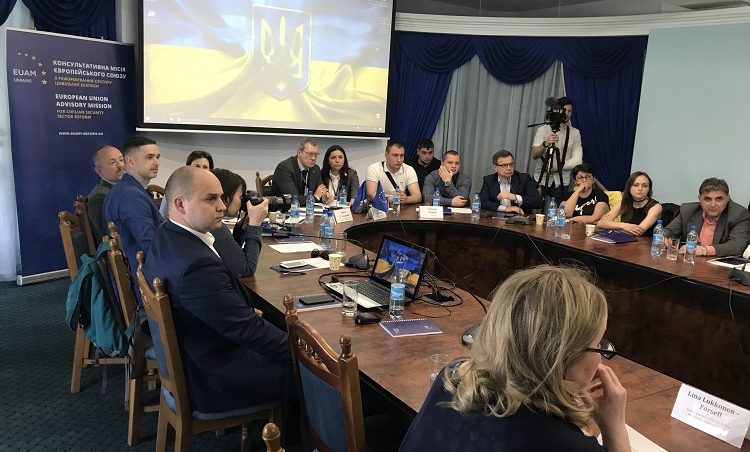 A new approach to planning for mass events such as demonstrations, sporting events or parades, which encourages mediation between different groups and law enforcement authorities is being introduced in Odesa with the support of the EU Advisory Mission Ukraine (EUAM). This new model, which is widespread in EU countries, encourages activists, event organisers and law enforcement bodies to meet and plan so that the right to free assembly is protected, but groups also commit to gathering peacefully.
On 25 April, an important meeting for institutionalising this approach was organised by the Head of the Odesa Regional State Administration Maksym Stepanov and EUAM. The roundtable discussion was called in advance of planned commemorations in Odesa on 2 May on the anniversary of the tragic clashes of 2014 as well as 9 May, which commemorates victory over Nazism, but has also become controversial due to the use of banned Soviet symbols.
"Our meeting marks the launch of a dialogue platform in order to fully implement the rights of citizens and peaceful assembly. Today, we want to hear everyone and do everything in order to have peaceful and quiet events in our area. I want to note that the joint work of the Regional State Administration, law-enforcement agencies and the European Union Advisory Mission has already produced some results. The events that took place on April 10 were held peacefully and without any serious excesses," said Mr Stepanov.
"We would like to congratulate the Odesa authorities on adopting best practices in preparing for events. EUAM will continue to support the development of a sustainable framework for managing mass event that ensures the risks of violence are minimised and citizens are able to exercise their democratic rights to assemble peacefully. We are still only at the beginning of this process in Odesa and throughout Ukraine, but particular progress in applying new approaches has been made in the Odesa region, which is very positive," said Paul Kirwan, EUAM Regional Presence Coordinator in Odesa.
The meeting on 25 April concluded with a commitment from participants with differing views to express their opinions during the upcoming marches peacefully and follow the law. Importantly, the participants of the event moreover agreed to hold another meeting after 9 May to plan for the future.