EU delivers IT equipment and software to National Police of Ukraine to strengthen criminal analysis capacity
July 14, 2022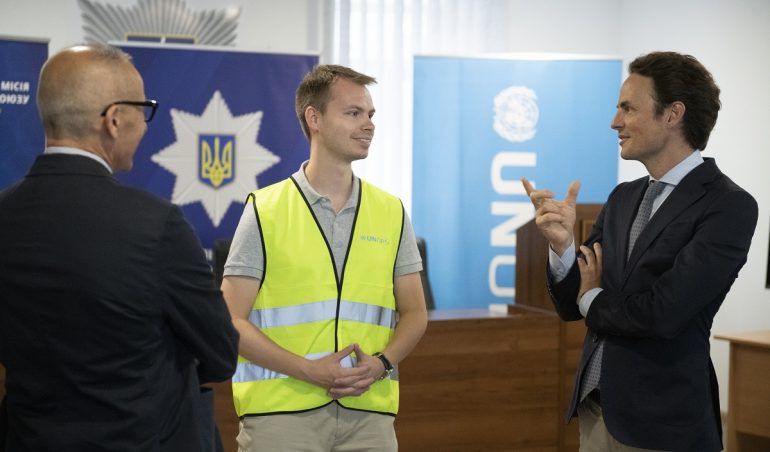 The EU-funded PRAVO Police Programme implemented by UNOPS in close cooperation with the European Union Advisory Mission Ukraine has seen a delivery of hardware and software for criminal analysis experts working at the National Police of Ukraine. Overall, the NPU received over 1,300 items of equipment and software valued at over EUR 755,000. The equipment was procured under the PRAVO Police Programme's "Intelligence-Led Policing" support package.
To mark the delivery, a meeting took place between the First Deputy Head of the National Police of Ukraine Mykhailo Kuznietsov, Head of the NPU Criminal Analysis Department Dmytro Khudenko, Deputy Head of Mission at EUAM Fredrick Wesslau, and the UNOPS Ukraine Country Manager Gianni Volpin.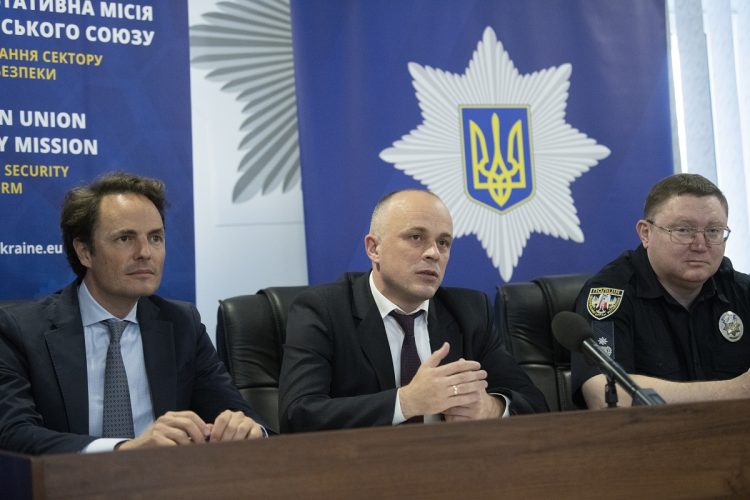 Mykhailo Kuznietsov thanked the international partners and stated the following: "We must admit that the National Police is facing a number of grave challenges. Officers of the Criminal Analysis Department, along with other NPU personnel, are sparing no effort to properly document and investigate the crimes committed by occupational forces in Ukraine, locate the perpetrators, identify bodies etc. The ultimate goal is to have all those responsible brought to justice. I have no doubt that the work that we do together with our partners will enable these tasks to be addressed as quickly as possible, and I wish to thank them wholeheartedly for their support."
Dmytro Khudenko added that the donated equipment will have a tangible impact on the efficiency of police work. "When operated by trained professionals, this hardware can generate value that far exceeds its nominal price. For instance, the Criminal Analysis Department works to identify Russian assets to be frozen and confiscated. Potentially, this implies significant revenue for the state budget and means the ex-owners will no longer be able to harm the European Union and Ukraine. We are getting one step closer to the proactive approach foreseen by the ILP concept", said Mr. Khudenko.
With this donation, we will contribute to enhancing NPU's technical capabilities in implementing ILP
Speaking on behalf of EUAM, Fredrik Wesslau remarked on the progress made by the police in implementing best practices in Intelligence Led Policing (ILP) and intelligence analysis. "With this donation, we will contribute to enhancing NPU's technical capabilities in implementing ILP. Reviewing the business process for decision-making will be another major aspect in the NPU's development," said Mr. Wesslau. "EUAM continues to support Ukrainian law enforcement agencies in their reform endeavors. This work is about helping Ukraine move closer and into the European Union. It goes without saying that Ukraine's future is as part of the EU family."
Gianni Volpin, Country Manager for UNOPS Ukraine, the implementing partner of PRAVO Police, stressed the importance of digital technology in police operations: "It is nearly impossible to imagine a modern police force that does not rely on databases, surveillance systems, open-source data analysis etc. These solutions allow the police to be one step ahead of crime and use public resources efficiently. UNOPS is proud to be a trusted partner for the Government of Ukraine and the European Union, helping them address both urgent issues and long-term strategic objectives."
This delivery completes the PRAVO Police Programme's "Intelligence-Led Policing" support package. The package was amended following the Russian Federation's full-scale invasion of Ukraine, with the decision made to focus additional funding on providing hardware to the NPU.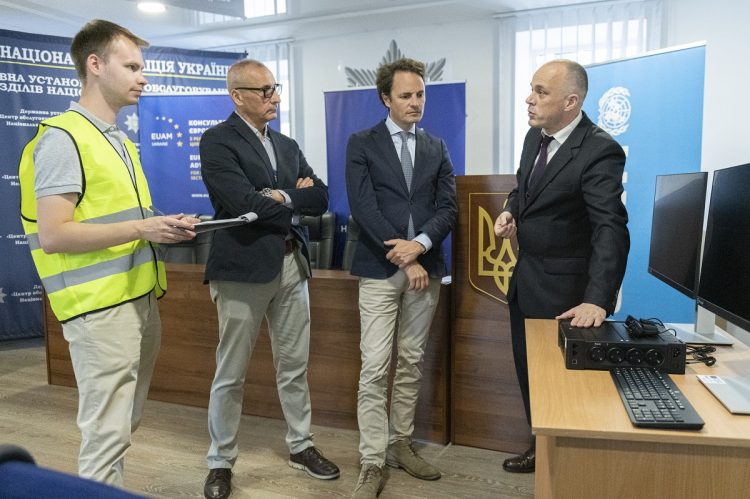 Background Information:
The equipment has been procured within the programme "Support for Rule of Law Reforms in Ukraine in the Areas of Police and Public Prosecution and Good Governance" (PRAVO Police) funded by the EU and implemented by UNOPS in close coordination with the EUAM. The overall objective of the programme is to contribute to promoting rule of law in Ukraine and to aligning law-enforcement agencies functioning with the best EU and international practices. PRAVO Police provided Ukrainian rule of law agencies with expert support, specialised training in a range of topics, as well as specialised forensic and personal protection equipment, means of transportation, ICT equipment, solutions, and systems. Following the Russian Federation's invasion of Ukraine, PRAVO Police was reprogrammed to provide emergency assistance to rule of law institutions and support them in continuing to exercise their mandates of providing safety and security to the Ukrainian people. To this end, Ukrainian law enforcement agencies will receive essential means of transportation and communication as well as personal protective items worth over EUR 8,000,000 in the several months following 24 February 2022.