Dialogue policing approach aims to create 'partnership with public' in Odesa
January 24, 2017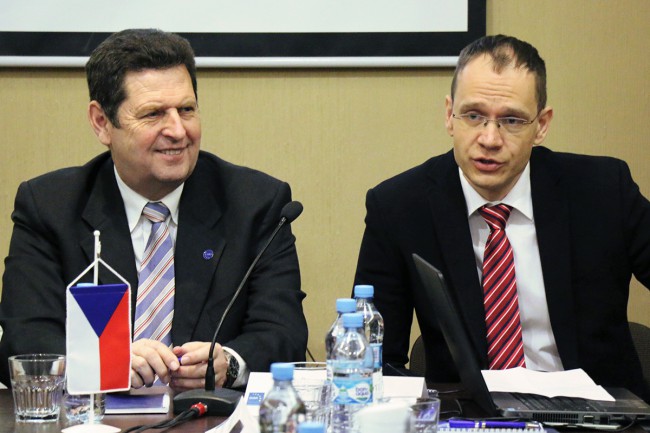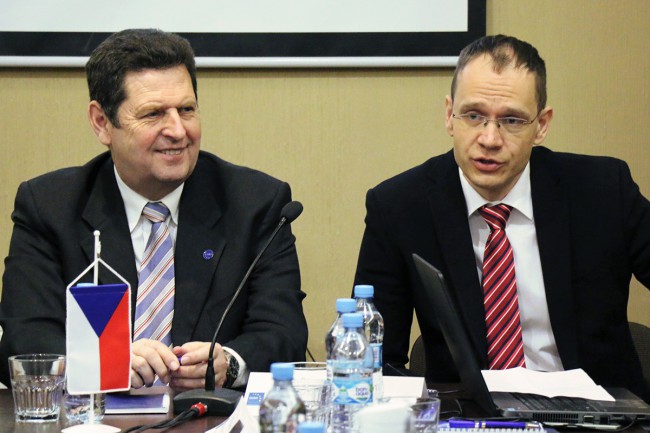 Udo Moeller EUAM Head of Operations (on the left) and Col Vaclav Rukner CZ International Police Cooperation department (on the right)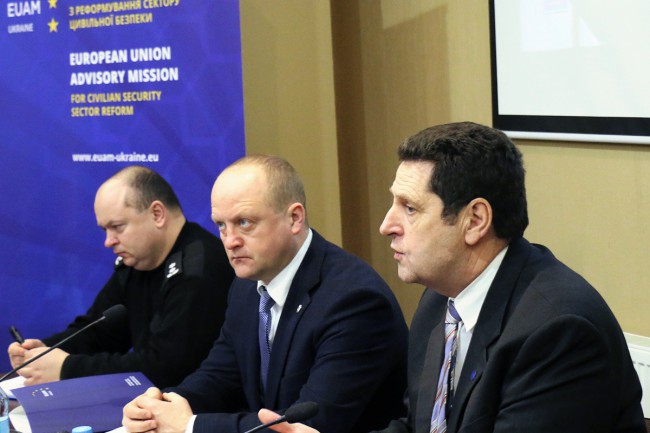 Udo Moeller EUAM 
Head of Operations 
(on the right), Sergei Makhotin Deputy Head NPU Odesa (centre)
Experts from the EU Advisory Mission Ukraine (EUAM) and the Czech Police started a four-day training session today in dialogue policing for police officers from the National Police of Ukraine in Odesa. Dialogue policing is a crowd-management technique, which was developed over a decade ago in Germany and Sweden and is now standard practice in EU countries.
It has proven to be an effective tool in preventing violence during large gatherings of people, for example during demonstrations or football matches. The Odesa training will focus on topics such as how to set up anti-conflict teams within the police, the psychology of crowds, and case studies in crowd management.
At the centre of the dialogue policing method is the idea that in a democracy, the role of the police is to protect the rights of citizens to assemble freely. Dialogue police officers patrol crowds in small groups, wearing for example yellow, high visibility jackets instead of riot gear. They maintain contact with the people in the crowd, so that everyone understands their rights and responsibilities and participants are protected. Through dialogue with participants in a mass event, police officers work to mitigate and prevent confrontation. 
"Making a success of dialogue policing is in everyone's interest, and is also part of efforts to build public trust in the police and remind people that police officers are there to protect the rights of citizens," said Udo Möller, EUAM Head of Operations. "If an effective relationship is built with the public, then organisers of events or demonstrations become willing to help identify potential sources of violence. Creating a partnership with the public is what successful police forces in democracies set out to do."
A dialogue policing approach does not mean abandoning traditional crowd management techniques. If violence does occur, then police officers are trained to respond to this. Dialogue policing starts from the assumption however that the most effective way to avoid violence is to build a relationship with the public, police in a low-key fashion and only use more robust policing methods when absolutely necessary.
Dialogue policing training has already been delivered by EUAM and the Czech Police in Kharkiv and Lviv, with further trainings planned in Dnipro and Khmelnitsky. Once this cycle of trainings is completed, a train-the-trainers course for police officers in Kyiv is planned, so that police officers in the National Police of Ukraine are equipped to train their colleagues in dialogue-policing techniques.
| | |
| --- | --- |
| Neculai Oprea, EUAM Public Order Trainer | Course Participants |