Criminal investigation pilot project first tried in Boryspil to be rolled out in Odesa oblast
April 13, 2017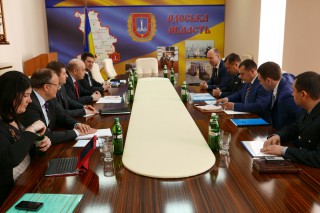 In a quick follow-up to the launch of the criminal investigation 'merger' project in Boryspil police station two weeks ago, the National Police of Ukraine (NPU) this week decided to roll out the pilot project at Podilsk police station in Odesa Oblast. The decision came amid discussions on reform challenges held in Odesa between the Head of the European Union Advisory Mission (EUAM) Ukraine, Kestutis Lancinskas, and the Regional Police Commander, Dmytro Golovin, at which the National Police of Ukraine's Deputy Head, Kostyantyn Bushuev, was also present.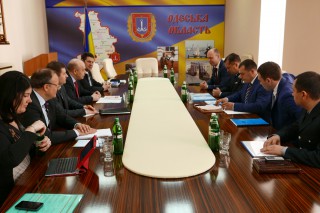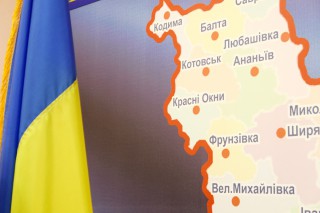 Meeting at Main Department of the National Police of Ukraine in Odesa region
The 'merger' pilot project aims to merge activities of police operatives and investigators under one chain of command, which will lead to greater efficiency and reduction of bureaucracy in criminal investigations. Podilsk police officers will now follow the example of their Boryspil colleagues; it is envisaged that six further regional police stations in other parts of Ukraine will shortly follow suit. The 'merger' initiative was among the main items agreed for future cooperation between EUAM and police in Odesa – the others concerning human resources, preventive activities and community policing.
"First of all, we must rebuild the trust of people," said Konstantyn Bushuev. "In order to achieve this we must reduce police response times and ensure that officers are out on the streets close to citizens."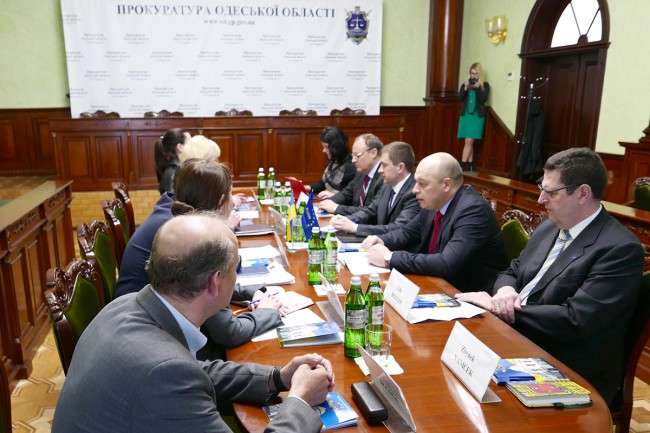 Meeting at Regional Prosecutor's Office of Odesa
During his visit to Odesa, Kestutis Lancinskas also held a working meeting with the Deputy Prosecutor of Odesa Region, Yurii Kichkuk, and the Head of Odesa's Regional Security Service (SSU), Serhii Batrakov. A discussion with Non-Governmental Organisations (NGOs) in Odesa focused on the speed of reform in the Civilian Security Sector, and the role that could be played by civil society. Activists pointed to some problematic areas as access to free legal aid, the quality of criminal investigations and compliance with human-rights standards.