International actors join forces to create space for police-community dialogue 
October 09, 2020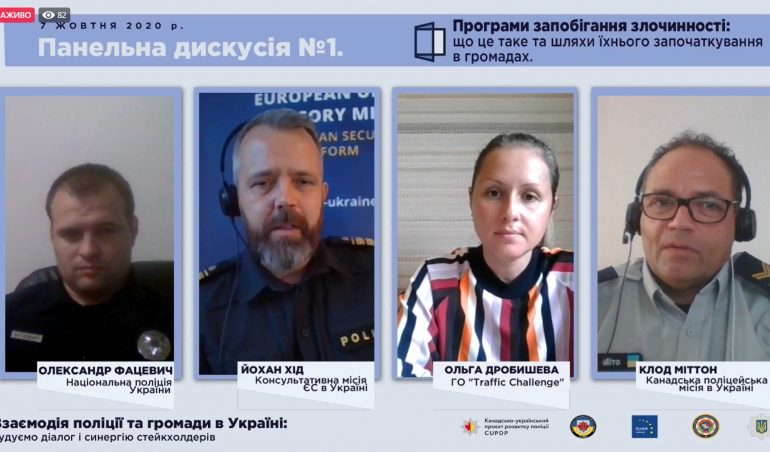 On 7 October, EUAM participated in the first of seven community policing online panel discussions titled 'Interaction between the police and the community in Ukraine: building dialogue and synergy of stakeholders'. Crime prevention and evolution of common programmes for successful development in local communities were the topics of the first webinar, which was attended by more than 100 participants.
All seven webinars seek to create a dialogue between members of various Ukraine police departments at the central and regional levels, local authorities, Ukrainian NGOs, and members of the public who are interested in implementing community-policing approaches and seek to launch security projects in cooperation with the police. Examples of best practices and joint practical work can provide valuable findings for the development of the concept of a national strategy for the implementation of effective police-community interaction in Ukraine.
EUAM Advisor/Trainer on Community Policing, Johan Heed, highlighted the importance to involve the whole society into crime prevention. "Local problems require local solutions. You achieve so much more by working together with civil society, local authorities, schools, sports team, etc.  In EU countries crime prevention is a part of the daily work not just for police, but also for other organisations. This cooperation demonstrates good results."
The online panel discussions is a joint initiative with the Canadian-Ukrainian Police Development Project (CUPDP), the Canadian Police Mission in Ukraine (CPMU), EUAM, qualifications for criminal investigation authorities (ICITAP). 
Future webinars include a wide range of topics from combating gender-based violence, crime prevention through environmental design, to informing about the role and functions of community advisory groups to address local community security issues.
The next webinar is scheduled for 15 October. You can still join the open group at https://www.facebook.com/groups/dialogue.cp and fill in the registration from: https://rb.gy/sefa1x  The group can also be found using the @dialogue.cp address.