How to create safe conditions for Ukrainians on the Internet? MoDT and MoIA hold an international conference
January 21, 2021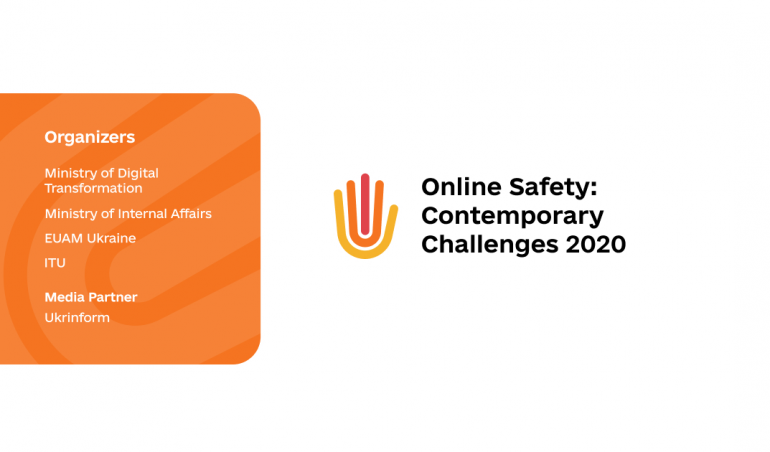 On January 19-20, 2021, the international conference "Safe Online 2020: Modern Challenges" took place. The conference was attended by more than 35 speakers from different countries.
Lectures and panel discussions covered the following topics:
contemporary challenges of the Internet and ways to combat them

ways to build a safer online space in Ukraine

the impact of pornography on children and adults

sexual violence in the digital environment

blocking of materials and problems with the legislation

artificial intelligence

advice to parents on the safety of children on the Internet

disinformation and fakes
The conference was presented in the video format on the YouTube channel MoDT.
The organisers included the Ministry of Digital Transformation (MoDT) together with the Ministry of Internal Affairs  (MoIA) with the support of the European Union Advisory Mission in Ukraine (EUAM Ukraine) and the International Telecommunication Union (ITU).
Media Partner: National News Agency of Ukraine – Ukrinform
Deputy Prime Minister of Ukraine, Minister of Digital Transformation of Ukraine, Mykhailo Fedorov: "Online security is one of the strategic priorities of the Ministry. We are implementing a comprehensive approach in this direction – from the creation and implementation of concepts that will strengthen online security in the country to the reform of the State Service of Special Communications and Information Protection of Ukraine. Together with the Ministry of Internal Affairs, we are holding a large-scale international conference, which covers all aspects of online security. This is a platform where we are looking for ways to make the digital environment safe for Ukrainians, taking into account the world experience."
Deputy Minister of Internal Affairs of Ukraine, Tetiana Kovalchuk: "Today, the government is uniting efforts around human safety online. The Ministry of Internal Affairs raises the issue at the level of state policy, introduces new standards of law enforcement, placing a person and its safety at the forefront of the security and law enforcement system."
Antti Hartikainen, Head of Mission in Ukraine European Union Advisory Mission (EUAM), stated: "Cyberspace is borderless, and so are cybercrimes. But law enforcement is limited by national borders. This is a major challenge, and cybercriminals and cybercrime gangs are unfortunately fully aware of these limitations. This is why education and raising awareness is so important."
Director of the ITU, Doreen Bogdan-Martin:  "The COVID-19 Pandemic has shaken up the way the world and fast-paced society functions, simultaneously setting new standards for living a 'new normal'. At the heart of this unprecedented transition are our children and youth. As the UN specialized agency in ICTs, ITU is dedicated to supporting the work of the Government of Ukraine and of all our membership in ensuring a safe, resilient and inclusive cyberspace."