Ghost-bus sets off in search of real drivers as part of EUAM-financed road safety campaign
November 09, 2018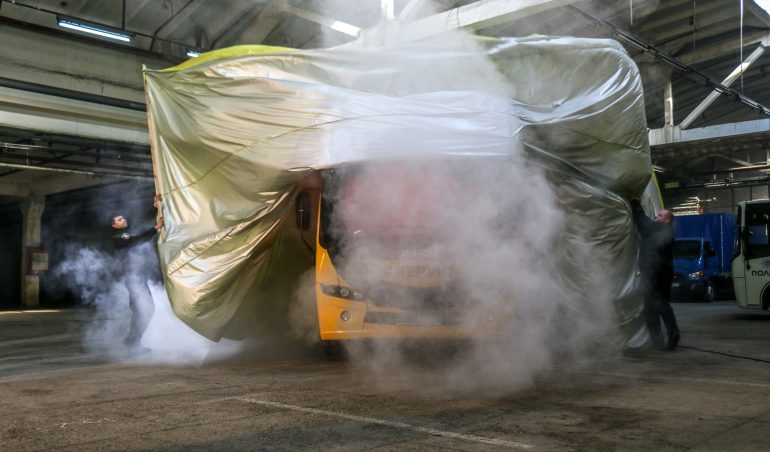 A strange sight emerged from a garage belonging to the National Police of Ukraine (NPU) today – a spectral but colourful bus without a driver. This bus is the centrepiece of the new phase of the NPU's 'Kerui' campaign, which aims to reduce Ukraine's high rate of road traffic accidents. The campaign is financed and supported by the EU Advisory Mission Ukraine (EUAM).
"Change starts with all of us – individually – taking the right decisions," said EUAM Deputy Head of Mission Fredrik Wesslau at the launch event of the campaign. "And with this in mind, the ghost bus will look for people that inspire all of us to be better drivers, as it travels around Ukraine. The bus will stop in different towns and meet 'heroes of the road'. These are normal people who stand out as role models by how they drive responsibly".
Last year, 'Kerui', which has a dual meaning in Ukrainian of 'to drive' as well as 'to manage', called on Ukrainians to manage themselves and their emotions on the road by using famous figures from Ukraine's past. Positive messages were emphasised as research has demonstrated that people are more likely to share positive stories than negative ones. Despite the humour and creativity of the campaign, it has a very serious underlying purpose, a point which was underlined by the Deputy Head of the NPU, Oleksandr Fatsevich.
"Unfortunately, since the beginning of this year there have been more than 122,000 accidents on our roads. Almost 20,000 involved deaths or injuries. Although, compared with last year, the number of accidents has decreased by 10%, this problem remains a priority for the police. We are talking about people's lives and health," Mr Fatsevich declared.
The bus' journey will end in two weeks' time, when it will return to Kyiv, bringing with it some of the heroes it has met on its journey as well as interesting and uplifting stories from Ukraine's roads.