Celebrities join EUAM/NPU 'manage' campaign to create culture of respect on Ukraine's roads
November 29, 2017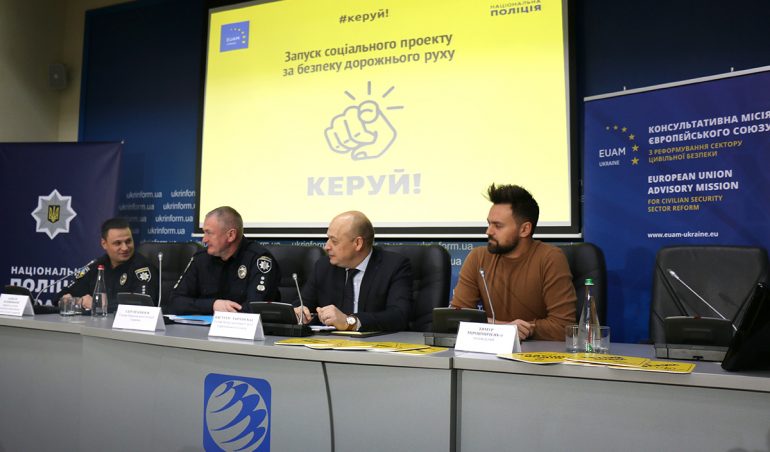 A communications campaign launched today by the Chief of the National Police of Ukraine (NPU) Serhii Knyazev and the Head of the EU Advisory Mission Ukraine (EUAM) Kęstutis Lančinskas calls on Ukrainians to 'Manage' their driving as well as their emotions and actions behind the wheel to create a more respectful driving culture in Ukraine. They were joined at the launch by TV presenter Timur Miroshnichenko, who presented the Eurovision Song Contest in Kyiv and who has lent his support to this campaign.
Other celebrities who are supporting the initiative include Olga Sumska, Lidia Taran, Masha Yefrosinina, Hryhoriy Reshetnik, Oleksandr Pedan and Oleksandr Ponomarev The campaign film also features cameos from well-known Ukrainian historical figures such as Roxelana, Volodymyr the Great, Mykola Gogol, Mykhailo Hrushevsky and Solomiya Krushelnytska.
Ukraine suffers from some of the highest rates of road accidents, especially deaths, of any country in Europe. On current trends, 2017 is scheduled to be the worst year for road safety on record in Ukraine, with 144,505 accidents so far, 33,687 injuries and 3,008 deaths.
Instead of shocking people with footage of tragic incidents however, the 'Manage' campaign calls on people's better nature. Recognising that many drivers will at some point have driven too fast because they are in a rush or broken the rules as a result of a general feeling that everybody is doing it, the campaign aims to inspire people to 'manage' themselves and their cars better.
"This action that we have launched with the EU Advisory Mission in Ukraine is very important. It will help us to promote the idea that observing traffic rules is integral to the safety of all people who use the road," said Mr Knyazev. He added that the situation on the roads in Ukraine is becoming ever more problematic and that the police is working on legislative changes to regulate the situation".
The campaign will be carried out by the NPU and has been financed by EUAM. The campaign consists of 50,000 stickers which drivers are encouraged to place in their cars as a positive reminder to follow the rules, and a video that will appear on TV and online.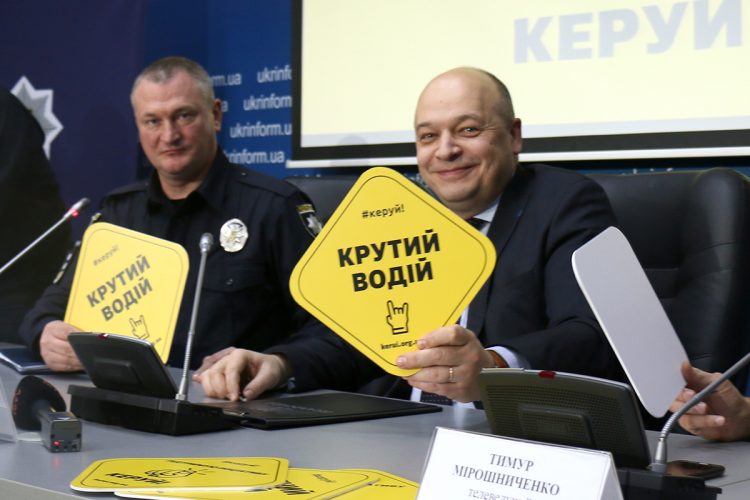 "We are proud to be supporting a campaign that sends a positive message about a very serious subject," said Mr Lančinskas. "We hope that the message that is sent out will inspire people to think about the way that they act on the road and make a resolution to be better drivers".
More information about the campaign, including links to the campaign materials can be found here:
http://kerui.org.ua/
https://www.facebook.com/KeruiUA
https://www.instagram.com/keruiUA