First EUAM-Frontex event lays foundation for Ukraine's IBM Strategy 2020-25
April 18, 2019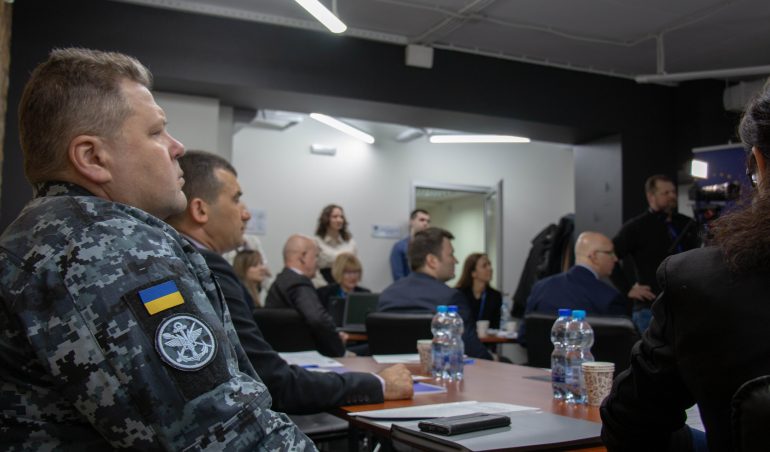 European experts in Integrated Border Management (IBM) were in Kyiv this week for a first-ever joint European Union Advisory Mission-Frontex event, dedicated to supporting Ukrainian institutions that are at present drafting the country's national IBM strategy for 2020-25.
Frontex is the European Border and Coast Guard Agency, based in Warsaw, and like EUAM, it has previously supported Ukraine in aligning its border management techniques with EU standards.
IBM is the EU template for effective border management that requires close cooperation and coordination across borders and between the relevant national bodies responsible for overseeing the movement of people and produce. Represented at the seminar in Kyiv this week were Ukraine's Border Guard Service, Fiscal Service, Migration Service, Security Service, National Police, and ministries of defence, infrastructure and internal affairs.
"FRONTEX support is going to be focused on operational and technical aspects of the strategy and done in close coordination with our EU institutional partners," explained Dace Kozule, Senior International Cooperation Officer at Frontex.
Ukraine has already established an inter-ministerial working group on IBM that began its work in March this year, and the expectations are that all parties may be in a position to adopt the IBM Strategy during the forthcoming summer.
The seminar was carried out mainly by three IBM experts from Estonia and Poland with vast experience in IBM implementation.
"We are deeply grateful to these EU experts for giving of their time and sharing their invaluable knowledge," said Brian Richard, EUAM Head of EUAM's Strategic CSSR Component, who opened the seminar on Tuesday. "Achieving coherence at the early stages of planning is key to ensuring a truly integrated and effective IBM approach."
Mr Richard pointed out that the EU is supporting Ukraine's IBM strategy development via several bodies, namely EUAM, Frontex, the EU High Level IBM Advisory Group, EU Twinning Project, the Support Group for Ukraine, and the EU Delegation.
Central to this support is the creation of the inter-ministerial working group, support for drafting of the strategy and other strategic advice, ensuring political buy-in from the top level of government, support for development of an action plan, and monitoring of the initial months of implementation.