Facilitation of interagency cooperation tops the agenda of Integrated Border Management Support meeting
February 26, 2021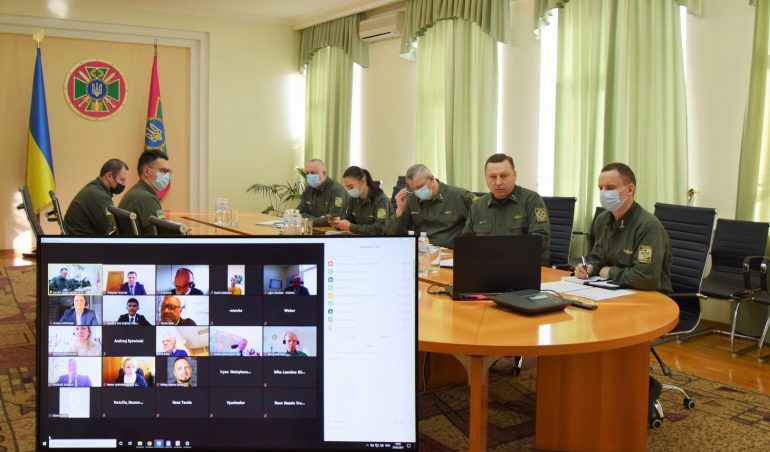 The European Union Advisory Mission (EUAM) co-chaired the Integrated Border Management Support meeting yesterday, organised together with the State Border Guard Service of Ukraine (SBGS).
The leadership of the State Migration Service and the State Customs Service joined the off/online event for the first time. Representatives of the international donor community and embassies included the Delegation of the EU in Ukraine, EUBAM, FRONTEX, OSCE, IOM, ICMPD, etc.  
The First Deputy Head of the SBGS, Volodymyr Nikiforenko, underlined that, despite the COVID-19 pandemic, the agency continues its reform. The tasks of the Service are laid down in strategic documents and defined by the obligations of Ukraine to implement the Association Agreement with the EU. "Ukraine confirms its aspirations and ability to carry out the real reform towards  the Association with EU with an ultimate goal of creating an Integrated Border Management System (IBM) that meets European standards and best practices", he said.
The Head of EUAM Strategic Civilian Security Sector Component, Brian Richard, highlighted the need for the main players like the SBGS and the State Customs Service to enhance interagency cooperation on the Top managerial level in order to obtain more progress on the IBM Strategy implementation and encouraged the agencies to develop their individual Action Plans. Besides that, EU representatives underlined the importance of criminalization of smuggling in Ukraine and assured their support of the reform efforts.
The objective of the IBM strategy is to increase the efficiency and effectiveness of agencies working in border management in line with the best European practice. It promotes cross-border and inter-agency coordination and cooperation, manages migration flows, responds to potential threats, counters cross-border crime and enhances the internal security of the country. The IBM model is an EU concept that helps to avoid duplication of functions among the state agencies responsible for security issues and oversight of movement of people and products. In Ukraine, IBM involves five Ministries, Ministry of Interior, Ministry of Foreign Affairs, Ministry of Infrastructure, Ministry of Finance, Ministry of Defence and seven state agencies of Ukraine including State Border Guard Service, State Migration Service, State Customs Service, Security Service of Ukraine, National Police, National Guard, State Service on Food Safety and Consumer Protection.