EUAM reaffirms commitment to reform process with opening of Odesa regional presence
March 07, 2018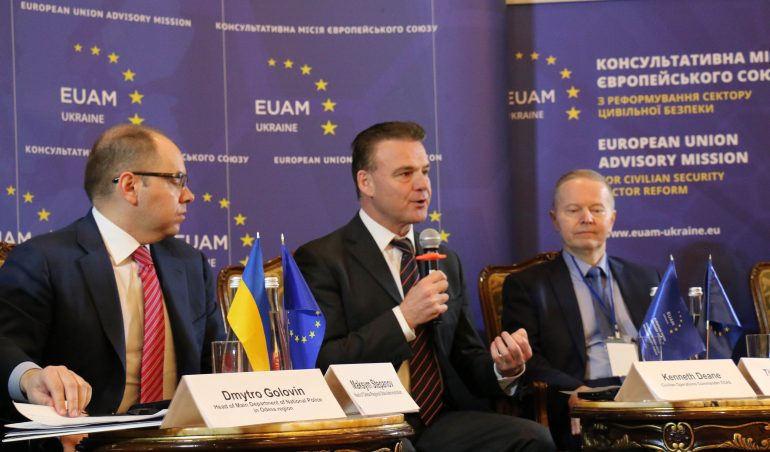 The European Union Advisory Mission Ukraine (EUAM) has today opened a new regional presence in Odessa. This is the third time EUAM has created an additional regional presence since forming at the end of 2014. EUAM's other two regional presences, outside its headquarters in Kyiv, were created in Kharkiv and Lviv in 2016.
EUAM has been a key part of the European Union's response to public demand for systemic civilian security sector reform. With a mandate to support Ukrainian authorities achieve reform of the Civilian Security Sector through strategic advice and practical support, EUAM works with the Ukrainian government ministries of Internal Affairs and of Justice, and institutions such as the National Police, Prosecution Service, Security Service and State Border Guard Service, as well as the judiciary. In this, the Mission operates hand in hand with the EU Delegation to Ukraine and other EU projects, such as the Special Measure on Rule of Law ('PRAVO') and 'Support to Police Reform in Ukraine', to amplify the effects of the EU's overall assistance.
This morning's ceremony in Odesa was opened by the Civilian Operations Commander for the European Union's civilian Common Security and Defence Policy Missions, Mr Kenneth Deane.
He said: "The EU Advisory Mission was created in order to help with reform process and the fact that we are now opening a third regional presence and in doing so extending our support to Odesa shows that we are increasing our commitment in this regard."
In the presence of key local partners, including the governor of Odesa, Mr Deane added:"Like all Ukrainians, Odessans want to see a more prosperous and secure future for them and their children. That means a future with civilian security sector bodies that people trust, and where the rule of law prevails".
In the short-term, approximately 20 EUAM staff members – a combination of local and international experts – will work in Odesa.