EUAM helps strengthen community involvement in policing in Kamianka-Buzka
June 13, 2018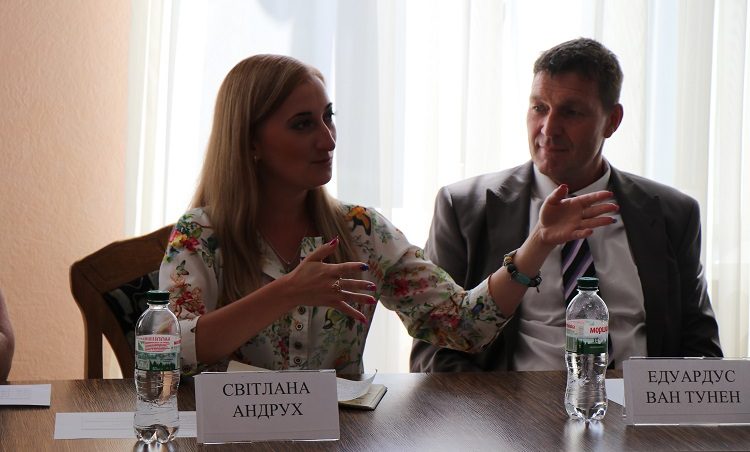 The EU Advisory Mission Ukraine (EUAM) organised today a workshop on strengthening community involvement in policing in Kamianka-Buzka, Lviv Oblast. Representatives of local authorities, the National Police of Ukraine (NPU) and civil society, who attended the event, were introduced to the Community Policing model, and also discussed local challenges faced by the community in an effort to find common solutions for them.
Community Policing is a philosophy where the police consult the community regularly and cooperate with community representatives in the interests of enhancing the safety and security of local residents.
Together with the police and district authorities in Kamianka-Buzka, EUAM has been working on developing an Annual Safety Plan – a strategic document which identifies local problems and challenges by consulting the community and proposes concrete actions to address them. By listening to the public and their concerns, which is a common European practice, the police wins more trust and credibility with the community.
"By understanding the work of police better and seeing that the police are acting on their concerns, the community becomes better aware of and more engaged in policing," said Adam Nystrom, EUAM Community Policing Adviser/Trainer. "That is why such meetings as today's, where the police, local authorities and members of the public not only can exchange views, but also seek common solutions to the problems, are very important".
EUAM has been working closely since the middle of 2016 with local authorities and police managers in the Lviv Oblast on community policing issues by organising training sessions and workshops. Key stakeholders, including the Head of Kamianka-Buzka District Council Taras Keleberda were taken on a trip to Sweden to see how community policing is conducted there.