EUAM goes east prior to official launch of mission field office in Mariupol
July 16, 2020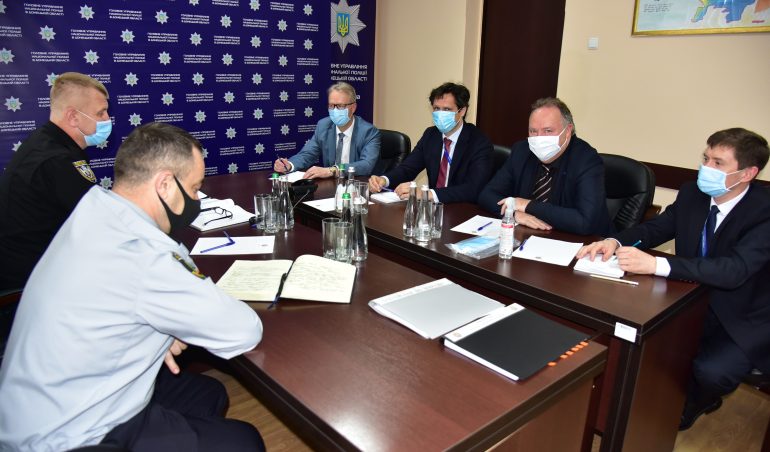 EUAM's Head of Mission Antti Hartikainen is this week undertaking a visit to Donetsk oblast to meet with regional authorities and law enforcement agencies both in Kramatorsk and Mariupol, which due to the ongoing conflict requires considerable time and effort to move between the cities.
Mr Hartikainen's visit presents an opportunity to see the picture on the ground, and obstacles the region faces, ahead of the upcoming official launch of EUAM's fourth field office in Mariupol planned for September. EUAM will intensify its support to Ukraine's regions through the field office, to complement those already successfully operating in Lviv, Odesa and Kharkiv.
During the meeting with the Deputy Head of the Donetsk Regional State Administration, Vadym Filashkin, Mr Hartikainen highlighted that EUAM is no stranger to its partners in the oblast. The Mission has already delivered numerous training events and webinars in the region, covering areas such as senior and middle management for police, forensics, public order, and criminal investigation. This work was mostly carried out by the EUAM Mobile Unit, until now one of the main tools for supporting civilian security sector reform in the regions. 
During the COVID-19 lockdown, EUAM conducted six webinars for police and prosecutors in the region on community policing, tackling domestic violence, public order management, chain of the pre-trial investigation, and international cooperation in criminal investigation.
"We are here in order to assist you. Our objective is to support Ukraine in developing a sustainable, accountable and efficient security sector, that enjoys the trust of people," said Mr Hartikainen. "Mariupol Field Office staff are now in place and they have already planned a number of activities for our interlocutors here, including training and workshops on capacity building, strategic communications, dialogue policing, domestic violence, introduction of EU best practices in public order management, criminal investigation, and combatting organised crime."
The field office will be staffed by 21 national and international professionals, and led by Martin Kulisek, from the Czech Republic. Mr Hartikainen's agenda this week also includes meetings with the regional management of the National Police, Patrol Police, Public Prosecutor's Office, SSU, State Border Guard Service, State Bureau of Investigations, State Customs Service, as well as with Mariupol city authorities, civil society and the Donetsk Law Institute of the Ministry of Internal Affairs of Ukraine.