EUAM contributes to international dialogue on THB for removal of organs
July 08, 2020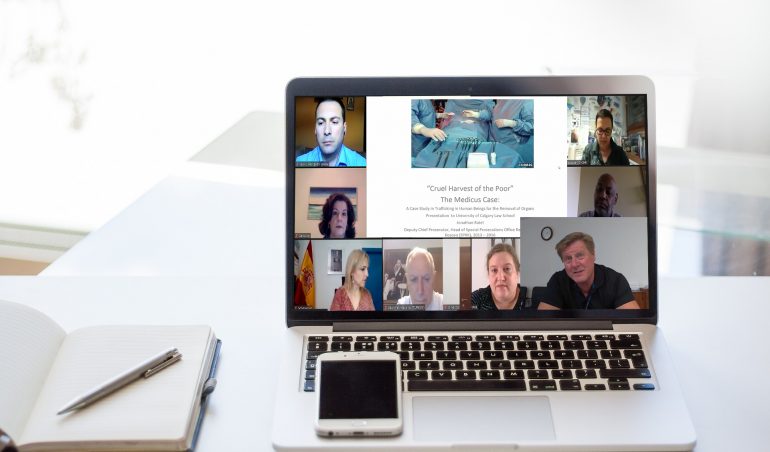 The EU Advisory Mission (EUAM) took a part in an international expert meeting on 'Combating Trafficking in Human Beings for the Removal of Organs' this week. The two-day online event, organized by the United Nations, OSCE and World Health Organization, brought together leading experts on the matter from around the globe, including medical practitioners and academia, law enforcement, human rights experts, researchers and legal advisors.
Despite specific enumeration in the legal definition of trafficking in human beings (THB) and a significant concern to the international community, trafficking in human beings for the purpose of the removal of organs is rarely investigated or prosecuted, globally. The United Nations Office on Drugs and Crime's (UNODC) Global Report on Trafficking in Persons, 2018 underlines that "trafficking for organ removal is primarily detected in North Africa, Central and South-Eastern Europe, and Eastern Europe".
EUAM's Lead Adviser on Prosecution, Jonathan Ratel, presented the 'MEDICUS' Case concerning allegations of organ trafficking in Kosovo. Mr Ratel was the responsible EU Special Prosecutor while serving as Head of the Special Prosecution Office Republic Kosovo (SPRK), 2013 – 2016.
The MEDICUS case is significant as a legal precedent for the investigation and prosecution against medical practitioners (surgery doctors) for serious crimes, including – illegal medical practice, fraud, organized crime and trafficking in humans for the purpose of removal of organs.
In November 2008, a young Turkish boy collapsed at Pristina airport alleging his kidney was surgically removed at the nearby MEDICUS clinic in Kosovo. Thereafter, UN investigators, together with Kosovo Police and the Ministry of Health discovered an elderly Israeli man recovering from surgery and was the recipient of an illegal transplantation of human organs.
As EU Special Prosecutor, Mr Ratel filed indictments against seven persons alleging organized crime, trafficking in persons for the removal of organs, grievous bodily harm, unlawful medical practice and abuse of office, fraud and other serious crimes. The indictment claimed that dozens of organ removals and illegal kidney transplants had occurred at the clinic, involving vulnerable and indigent victims from fragile countries.
"Victims of human trafficking for the purpose of removal of organs are frequently from fragile states with weak governance," said Mr Ratel. "Organized crimes groups seek to identify and recruit vulnerable and indigent persons with false promises of payments or fraudulent misrepresentations of gainful employment. By definition of law, the victims are incapable of providing informed consent for the removal of their organs – it is the cruel harvest of the poor"
The exact global number of victims of human trafficking for organ removal is unclear; however –recent studies suggest this crime is emergent and now perpetrated by large organized criminal networks operating in several countries, often with impunity and involving high numbers of victims.  The problem remains a persistent challenge that requires further policy action, new developments in international and national legal frameworks, further awareness raising and policy and capacity building efforts worldwide.