EUAM brings together police, civil society and state authorities in Odesa ahead of elections
February 19, 2019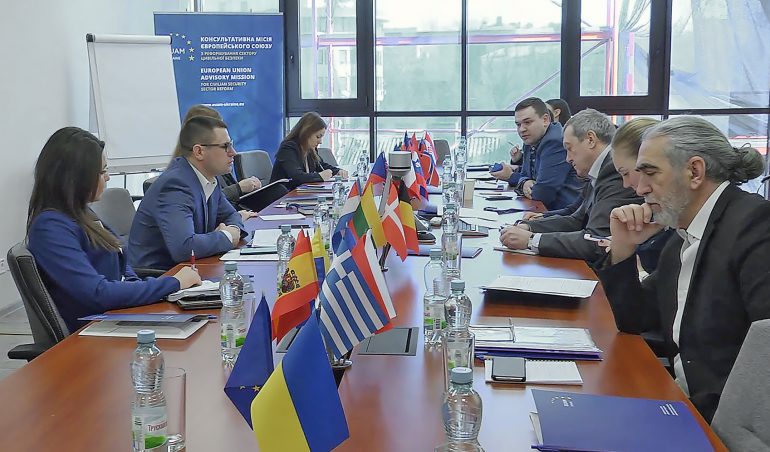 Last week, the European Union Advisory Mission (EUAM) organised a round-table in Odesa in order to assist police to detect and react to violations taking place during the ongoing presidential election campaign. More than 70 administrative violations have already been reported to the National Police of Ukraine (NPU) in different areas of Odesa region, the majority of which relate to the bribing of potential voters and the lack of information about the funds used in elections campaign. Political parties typically disseminate presents in schools, and operate among the elderly and displaced persons, for example, organising free health checks and donating goods marked with political insignia.
The round-table is aimed not only to share information about the most common violations, but also to discuss cooperation between the Regional State Administration, NPU and the Odesa Regional Organization "Committee of Voters of Ukraine", one of the main NGOs involved in monitoring of elections.  The discussion focused on effective prevention measures, threatsand the appropriate reaction of police.
"Ukrainian citizens deserve elections, which proceed in a democratic and transparent manner. In order to insure that, it is important to maintain dialogue between civil society, police and state authorities," said Paul Kirwan, EUAM Regional Coordinator in Odesa. "EUAM is ready to assist this dialogue. We hope that the professionalism of police will lead to an increase of public trust."
In total, EUAM will support 10 training sessions for Odesa police facilitated by local NGOs, which will update police on electoral legislation, particularly assisting them to classify violations and properly respond to them.