EUAM and State Customs Service open a new page of cooperation
March 24, 2021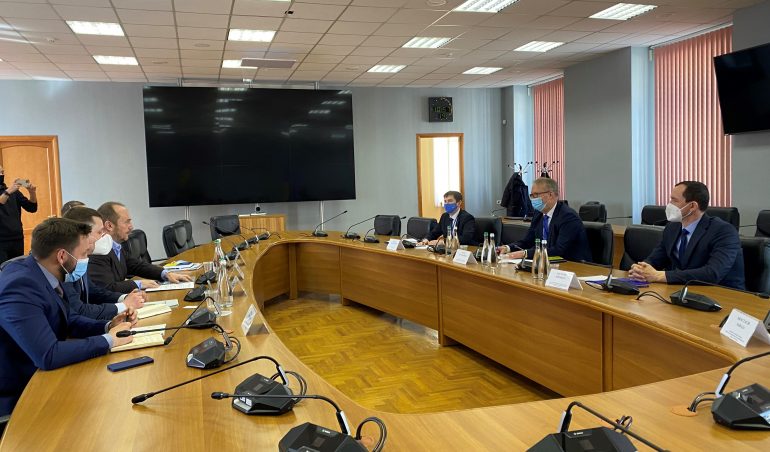 The Head of the EU Advisory Mission (EUAM), Antti Hartikainen, today held his first official meeting with the new Head of Ukraine's State Customs Service (SCS), Pavlo Ryabikin. The Integrated Border Management (IBM) system, and implementation of IBM-related activities at both central and regional levels, were among the key topics of the discussion.
The objective of IBM is to increase the efficiency and effectiveness of agencies working in border management in line with best European practices. It promotes cross-border and inter-agency coordination and cooperation, manages migration flows, responds to potential threats, counters cross-border crime and enhances the internal security of the country. The IBM model is an EU concept that helps to avoid duplication of functions among the state agencies responsible for security issues and oversight of movement of people and products. 
Mr Ryabikin also highlighted plans to proceed with human-resources optimisation within the agency, aimed at attracting 'new blood' – ambitious and motivated staff – and strengthening of vetting procedures. Mr Hartikainen assured Mr Ryabikin that EUAM is ready to provide the State Customs Service with expert assistance and will also intensify its practical support in the areas of digital transformation and operations in Ukraine's regions. A separate focus of the meeting was the criminalization of large-scale commodities smuggling, which is yet to be legalized in Ukraine but is something that EUAM and other international actors have advocated for.
Reform of customs is crucial for Ukraine's Civilian Security Sector, with so much of the State's annual budget depending on customs revenue. EUAM is advocating for the SCS to become a more service-oriented body, with effective management and professional staff.