EU supports creation of state-of-the-art data centres to enhance National Police operations
December 04, 2020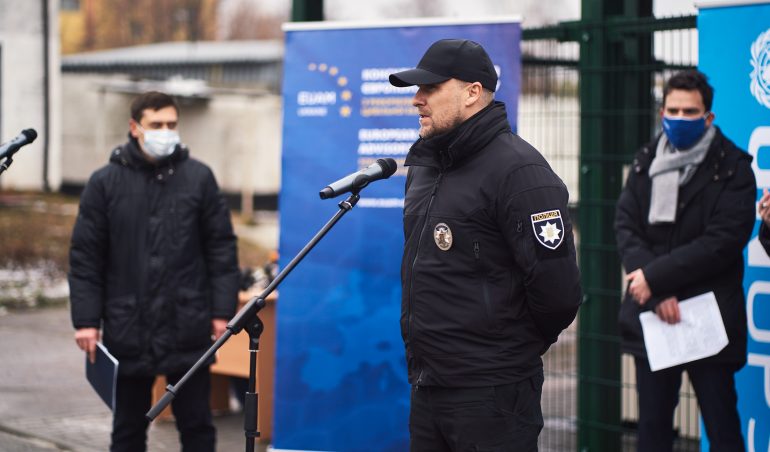 Today the National Police of Ukraine (NPU) announced the launch of two state-of-the-art modular data centres at undisclosed locations, networked with existing NPU telecommunications infrastructure. The new data centres will support operations and more than 45,000 police officers across Ukraine, at national and community levels, including 102 Police emergency lines. The new equipment is designed to provide police with cutting-edge security and data efficiency. The equipment, procured out of EU funds, was delivered by UNOPS in cooperation with the European Union Advisory Mission to Ukraine as part of the EU's continuing commitment to Ukraine and, specifically, the PRAVO Police programme.
"Upgrading the security policies for the digital age is a priority for Ukraine. Therefore, the EU is proud to help making Ukrainian National Police IT infrastructure more robust, resilient, effective and secure. The EU is committed to help the Ukrainian law enforcement authorities becoming more accountable, efficient and effective, for the benefit of an increased safety of Ukrainian citizens", said Xavier Camus, Head of Operations Section "Good Governance and Rule of Law" of the EU Delegation to Ukraine.
 "In current realities, the performance of the National Police of Ukraine depends a lot on the cutting-edge technology. It is not only about effective communication and information tools, as COVID-19 shifted many services online and thus extended opportunities for cybercriminals", said Antti  Hartikainen, Head of EU Advisory Mission. "Today the National Police of Ukraine takes an important step towards its digital transformation. We are happy to be a part of this major IT modernization of the agency which should result in more efficient police services for citizens of Ukraine".
 "Only the police can say the exact improvements in their operations accruing as a result of this investment, but our own experts believe there are significant gains to be expected in terms of dispatch and response times," noted Fran O'Grady, PRAVO Police Senior Programme Manager. "This should come as good news to anyone in Ukraine who may have to place an emergency call to the police for any reason."
 "Public safety is fundamental in any society," Mr. O'Grady stated.  "We are proud to be working with the Ministry of Interior, the National Police, and the European Union to provide  world-class technology that will strengthen the capacity of the police at all levels to effectively prevent and combat crime and enhance safety in local communities. "
The two data centres are the latest EU-funded technological upgrade to improve secure and timely exchange of information between regional and the National Police authorities. 
In October, Ukraine received new servers for hub stations in nine regions: Kirovohrad, Lviv, Kharkiv, Odesa, Kyiv, Vinnytsia, Chernivtsi, Poltava and Khmelnytskyi regions. Like the data centres, the new servers are part of a technological "overhaul" to enhance police efficiency.
In September and October, another seven servers came online to support a national and regional academy e-learning platform within the framework of the Ministry of Internal Affairs. This e-platform launch responds to an increased need for exchange of knowledge and expertise among national and regional law-enforcement institutions in the context of COVID-19-related challenges.
In November 2020,  45 new computers and 45 monitors to support Ukrainian police officers working with INTERPOL and EUROPOL in fighting organised and transnational crime were delivered. In addition, 36 new computers, 54 monitors and 18 printers were deployed to police stations in nine regions across Ukraine as a part of a community policing support programme aimed at building trust between police and communities through direct interaction and dialogue.
Previously, the EU and UNOPS delivered 150 personal computers and 20 printers to the Strategic Investigations Department (SID) to enhance National Police capacity in fighting organised crime.