Dialogue actors hope road safety initiative will lead to regional strategy for Odesa
October 31, 2018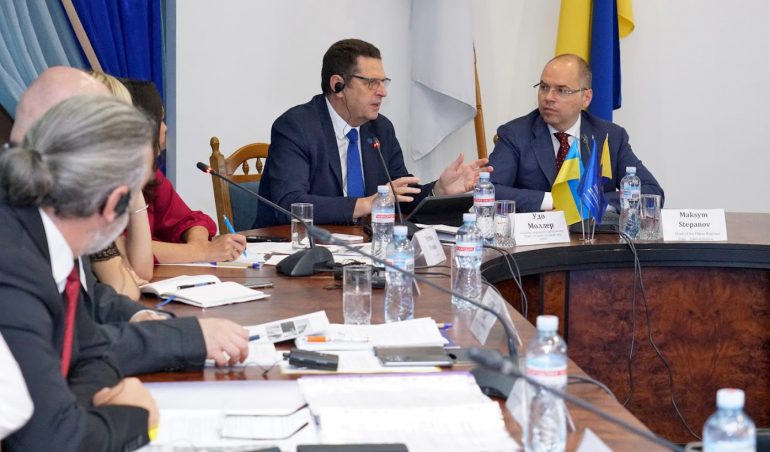 The Odesa 'dialogue platform' that was created by the Odesa Regional State Administration with EUAM support earlier this year yesterday brought together representatives of law-enforcement agencies, civil society and local authorities to discuss ways of improving safety on the roads of Odesa Oblast.
The 'dialogue' format was used with considerable success ahead of several commemoration mass events in Odesa during springtime, and EUAM hopes that this week's discussions on road safety will also mark the first steps towards the development of a Regional Safety Strategy, a model that the mission has already been supporting in Kharkiv and Lviv.
EUAM experts in Odesa this week shared some of their expertise on EU practices in road safety, particularly focusing on the main causes of traffic accidents and the severity of the consequences, as well as on the need for coordination between agencies involved in road-traffic safety.  
"We are happy to share with you some best practices in the area of regional security and road traffic safety that have been successfully implemented in EU countries," said Udo Moeller, EUAM Head of Operations. "EUAM stands ready to support the Odesa authorities, law-enforcement agencies and civil society in elaboration of the Regional Safety Strategy, as it is in the interest of all of us to see Odesa as model region, where citizens feel safe and secure."
Ukraine passed into law a road-safety strategy, or the 'National Strategy on the improvement of road-traffic safety in Ukraine for the period up to 2020', on 14 June 2017. Ukraine's Cabinet of Ministers then asked for an action plan to facilitate the implementation of the Strategy, but many oblasts have yet to develop such action plans. EUAM is also working with the National Police to enhance public awareness of road safety through its 'Kerui'public awareness campaign, the second phase of which begins over the coming days.