Criminal investigation pilot project delivers 2 million-hryvna boost to police in Khmelnytsky and Drohobych
August 09, 2017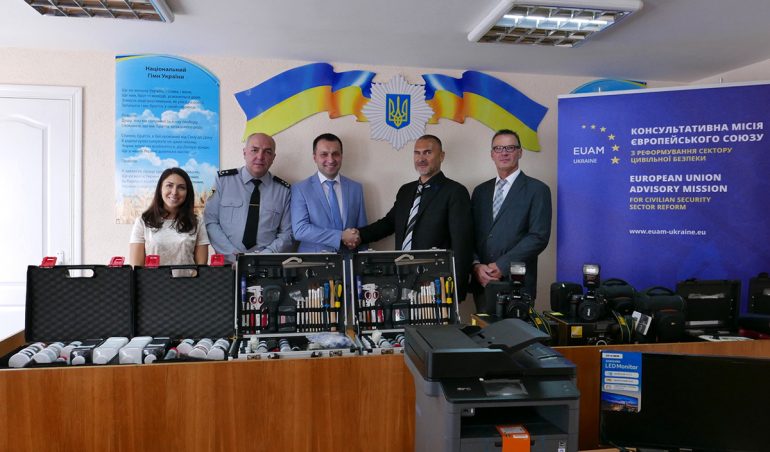 The European Union Advisory Mission this week handed over equipment worth 2 million hryvnas (€66,000) to police in Drohobych (Lviv region) and Khmelnytskiy, a gesture that is intended to support the enhancement of investigation capacities of police in both locations. The donation of forensic kits, cameras, computers, monitors and printers was made on August 8 in Drohobych, and on August 9 in Khmelnytskiy.

The technical support from EUAM has been delivered in the framework of a joint project with the National Police of Ukraine that is merging the activities and functions of criminal-police operatives and pre-trial investigators under one chain of command. The pilot project was launched in January 2017 in Boryspil police station (Kyiv region), and has since then been rolled out in seven further regions: Kharkiv, Khmelnitsky, Lviv, Odesa, Poltava, Sumy and Zaporizhia.

"The pilot project is aimed to reduce bureaucracy and increase efficiency in criminal investigation, as operatives and investigators will no longer be under different chains of command and will operate as one team," said Zbynek Vanicek, EUAM Lead Advisor on criminal investigations. "This practice has proven to be successful in EU Member States that also emerged from the post-Soviet system."

In Czech Republic, Lithuania, Poland and Romania, for instance, the functions of operatives and investigators are merged under one chain of command into one universal position. The aim of the reform measure is to effectively solve and prevent crimes by increasing coordination within Ukraine's police criminal-investigation system.