Attempts to bring weapons into courthouses drop by 20% after public information campaign
January 10, 2023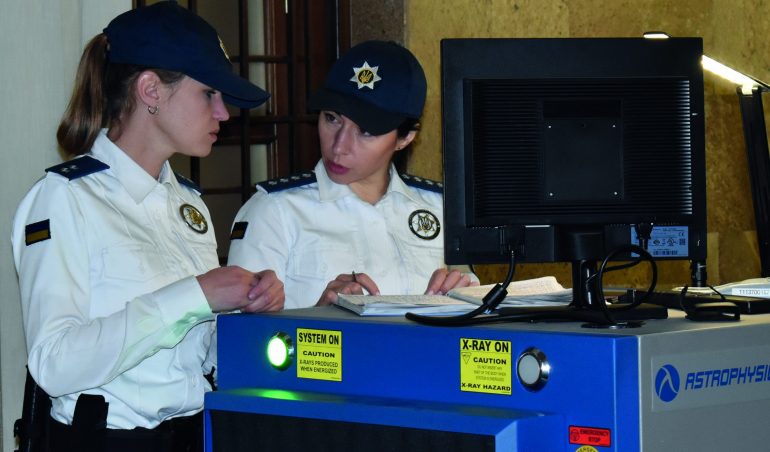 Today, the Court Security Service and the European Union Advisory Mission (EUAM) Ukraine announced the results* of a joint public information campaign carried out to reduce security risks in courts.
The campaign has resulted in a nearly 20% decrease in attempts to bring firearms and other prohibited items into courts despite, at the same time, the number of court hearings guarded by the Court Security Service has increased each month since Russia's military aggression against Ukraine.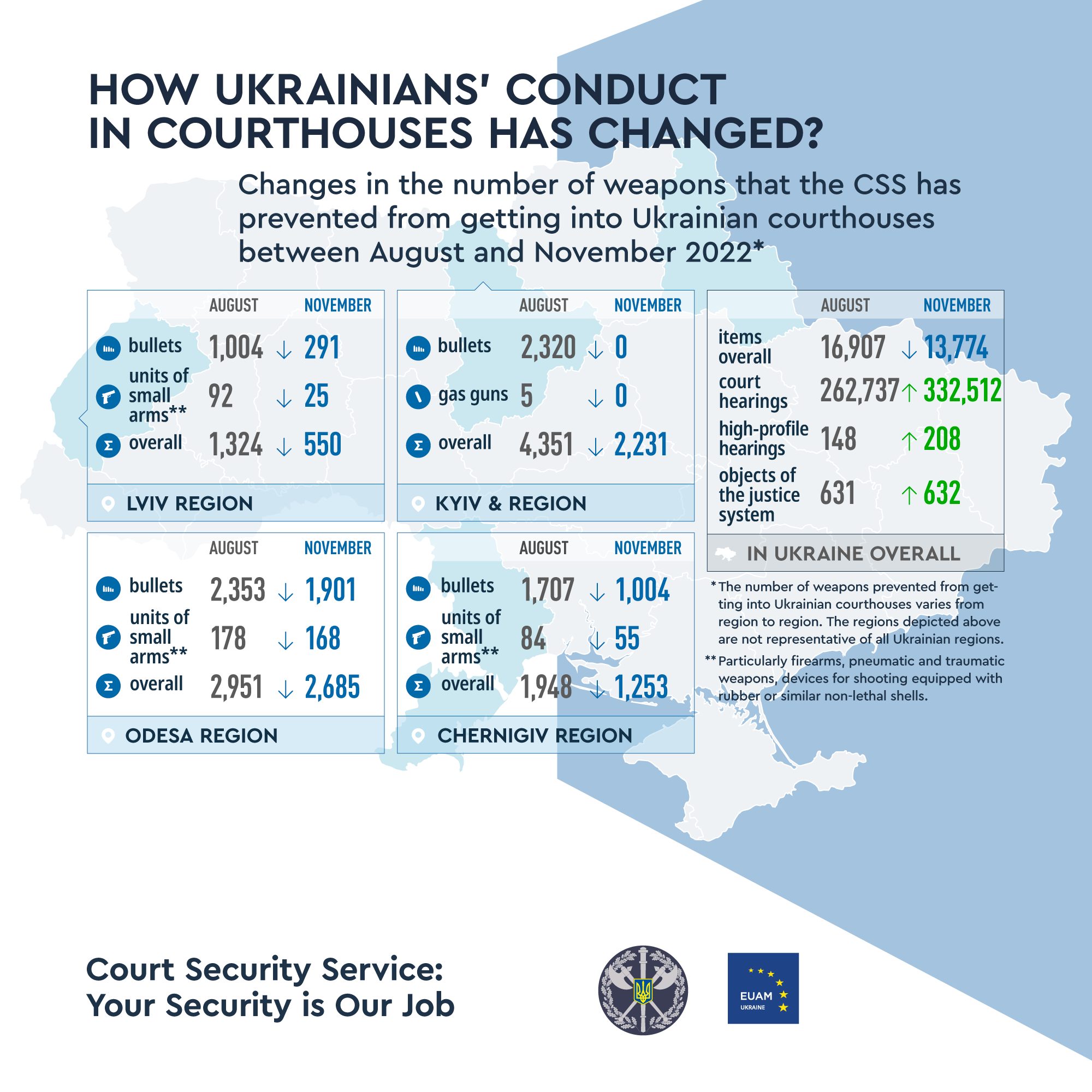 Following the invasion in February, thousands of citizens received permits to possess arms or have been issued weapons to defend the country. Subsequently, Ukrainian judicial institutions have faced a significant increase in the number of attempts to bring weapons and prohibited items into their premises. After the invasion, an escalating number of court visitors tend to ignore the rules and arrive at the courthouses carrying strictly prohibited items.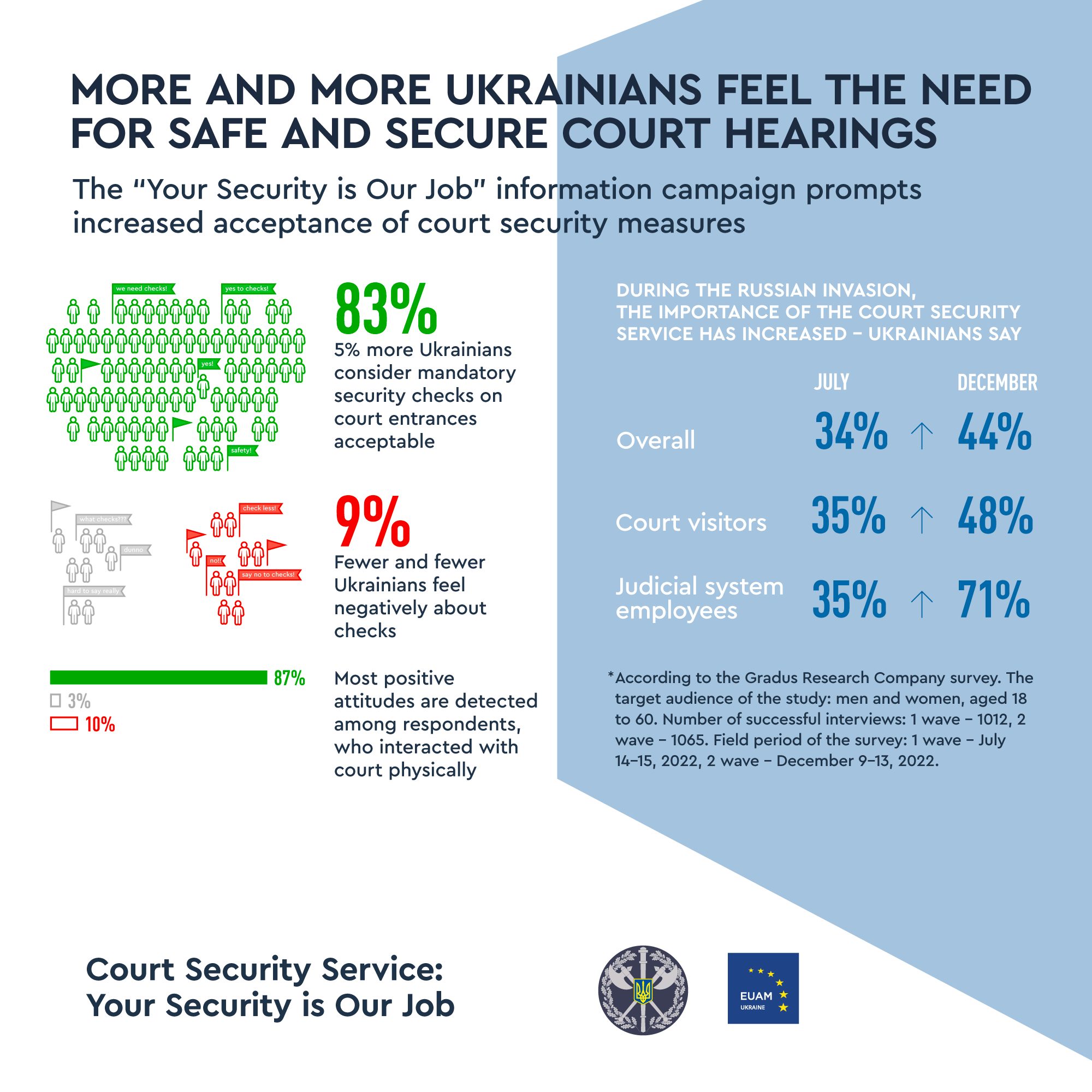 According to the Court Security Service, visitors attempted to carry a total of 2,429 firearms into courtrooms between January and August 2022. This is 18.5 times more compared to 2021's 131 cases. Also on average, approximately 15,000 monthly attempts to bring in other prohibited items, such as knives, mock weapons, dangerous substances, fireworks and explosives, were made between August and November 2022.
In addition, the campaign results reveal a 10% percentage point rise – up to 44% – in citizens who recognize the duties of the Court Security Service as more important since the invasion. As many as 87% of all visitors to courthouses consider mandatory checks necessary before entering the premises and acknowledge the significant role of the Service in this respect.
"EUAM's campaign cooperation with the Court Security Service demonstrates how effective communication can support the operational efforts of Ukrainian state agencies in the justice system in times of war. Strategic Communications advice and practical support remain a crucial element in the Mission's assistance to Ukrainian authorities in their aspiration to reform the civilian security sector," underlines EUAM Strategic Communications Advisor Hasse Resenbro, who has been managing the Court Security Service campaign.
* The results are based on a public opinion survey of the public's attitudes toward judiciary security. The first wave of the survey was conducted on 14 and 15 July 2022, the second wave between 9 and 13 December 2022. The target audience of the survey was men and women, aged 18 to 60, who lived in Ukrainian cities with a population of 50 thousand or more at the moment the current war began. The number of completed interviews is: 1st Wave: 1,012. 2nd Wave: 1,065.