Udo Möller
May 24, 2017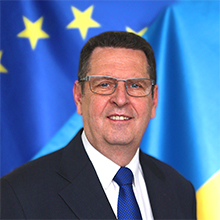 With more than 45 years of experience in police work, Udo Möller has served as a senior police officer in Germany as well as in various peacekeeping and international capacity-building missions. During his career, he has gained extensive experience in strategic and operational policing in conflict and post-conflict environments.
His national career started in 1970 as a patrol officer in North Rhine-Westphalia in Germany, where he would eventually become Chief of Police. He served as Deputy Head of Mission at the EU Support to the African Union Mission (Darfur), Head of Police at EULEX in Kosovo, and as principal and senior adviser and project manager for various EU and UN peacekeeping missions.
Mr Möller also had a part-time political career between 1989 and 2006, enjoying roles as a member of regional parliament, member of county parliament and Chairman of a governing body of the Municipality Bank Institute for five years.
Before being appointed Head of Operations at EUAM Ukraine in August 2016, Mr Möller served as both Head of the Regional Outreach Component and as Head of the Law-Enforcement Component in the Mission. He led the Enhanced Regional Outreach Team that in 2015 created the 'Sambir Police Project' in the Lviv Region, which had the objective of building the trust of Ukrainian citizens in the police outside of the largest cities.