Peter Bach
May 24, 2017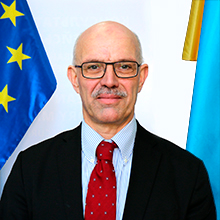 Peter Bach is a Danish national with over 20 years of international experience in Rule of Law, Project Management, and Crisis Management. He has worked for various international organisations, including the OSCE (Bosnia and Herzegovina, Serbia), Office of the High Representative (Bosnia and Herzegovina), the European Agency for Reconstruction (Serbia), and within UNOPS and EULEX in Kosovo.
Mr Bach has significant experience with EU donor assistance programmes, especially in the Rule of Law sector. Before joining EUAM Ukraine as the Chief of Staff, Mr Bach was the Head of the Strengthening Division within EULEX Kosovo, responsible for the Mission's monitoring, mentoring and advising (MMA) obligations towards local authorities, which included Kosovos justice sector and law-enforcement institutions.
Peter Bach holds a law degree from Copenhagen University and an LL.M from American University, Washington College of Law, Washington DC, USA. Prior to working internationally, Mr Bach was an attorney in Denmark for 10 years. He is admitted to the Danish Supreme Court.