Understanding our partners' needs: EUAM Ukraine tailors new project management trainings on Ukrainian SBI's renewed challenges
July 14, 2023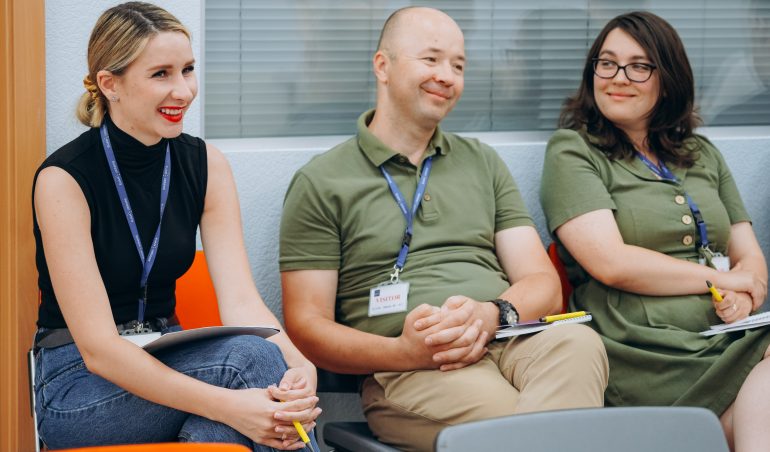 How can you ensure that your training meets the participants' expectations? Start with a kick-off meeting and ask them, is the answer.
So it happened that EUAM Ukraine brainstormed about an upcoming training course on project management with representatives from several departments of the State Bureau of Investigations (SBI) invited at the Mission's premises on 13 July.
The SBI participants came from compartments including the Main Investigation Department, the Main Operative Department, the International Cooperation Department and the Department for HR and State Service.
A Ukrainian trainer was on board to support with the identification of the participants' training needs and expectations. This is a key aspect, as EUAM's Head of Governance Component, Kirsten Joppe explains: "Our goal is to tailor the training to our partner's specific requirements and objectives".
The EUAM's proposed course is meant to cover essential aspects of project management, including project initiation, scope definition, scheduling, budgeting, quality assurance, risk management, and the project closure. The expected goal is for the SBI officers to get familiar with best practices and methodologies, simulating such new knowledge through practical exercises and case studies, before putting them into working practice.
EUAM's approach was valued listening to the participants immediate feedback: "It makes a lot of sense to talk about our need prior to get started with the course" said Kateryna Bondina, Chief Specialist of the Public Events Organization Unit of the International Cooperation Department, during a coffee break.
"Our task is to support our colleagues in enhancing their competencies to deal with the enormous challenges that Ukraine faces now, since Russia's war of aggression has dramatically increased the level of pressure on law enforcement agencies' staff", added Kirsten Joppe, stressing how the current situation is enormously challenging with regards to new skills and knowledge.
Besides the positive words on the organization of the kick-off meeting, Kateryna Bondina said: "We really appreciate EUAM being in Ukraine and its dedication to help us improve our skills."
The SBI officers didn't get much sleep the night before attending the get-together at EUAM. The activity took place after another night marked by barrages of loud drone attacks on the Ukrainian capital.
Yet, EUAM staff, like their Ukrainians colleagues and the rest of the population of Kyiv got to their workplace in the morning, despite learning about the wounded and the casualties around them.