Ukrainian and Polish Psychologists share know-how on war-related trauma
September 15, 2023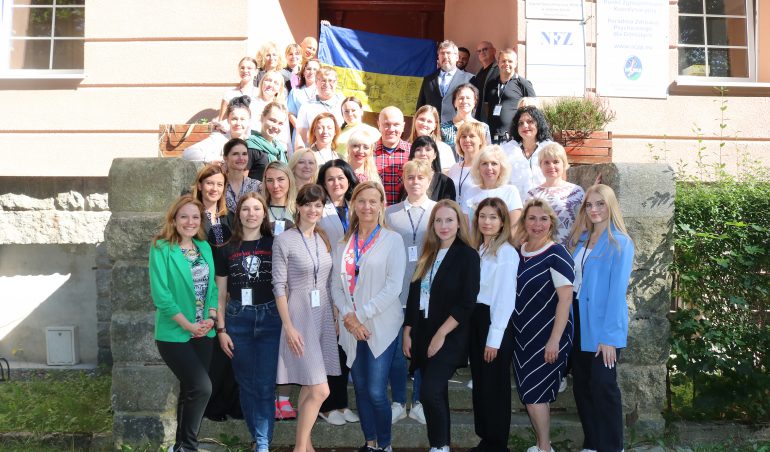 Amid Russia's ongoing aggression, Ukraine's Law Enforcement Agencies (LEAs) are under immense psychological pressure. This burden is particularly acute in the liberated territories of Ukraine, where life slowly returns to normalcy, but remains exceedingly challenging.
Acknowledging the need to strengthen the mental well-being of Ukrainian law enforcement professionals, last week the European Union Advisory Mission (EUAM) Ukraine organised a study visit to Poland for 20 Ukrainian psychologists employed by LEAs.
The psychologists involved in the brain-storming sessions in Poland are from Ukraine's Ministry of Internal Affairs (MoIA Higher Education Institutions and the Human Resources departments of the National Police of Ukraine (NPU).
"The event intended to support psychologists, enhance their expertise and capacity via exchanging and sharing practices and experiences on psychological support during the war. The aim is to keep LEAs personnel's motivation and dedication to a high-level performance under devastating war conditions," said Yana Vzhesch, EUAM's Human Resources Development Officer.
Specialised Medical Institutions of the Ministry of Interior and Administration of the Republic of Poland set up the visit's program. According to the Ukrainian participants, it was very beneficial, as it touched upon important psychotherapeutic techniques currently used to cope with traumatic situations.
Piotr Kędziora, a fellow Polish psychologist at the Sudeten Mental Health Centre in Jelenia Góra added that the best practice shared included self-help methods for preventing trauma, based on the experience of the Polish State Fire Service.
One of the essential results of the visit is that the gained experience will be implemented in Ukraine's liberated and adjacent territories, where the participants come from.
"Upon my return, I plan to organise classes for the MoIA University cadets with the participation of psychologists from Kherson, Donetsk, Dnipro, and other regions. This will help us combine practical and theoretical knowledge so that our cadets are ready to provide psychological help after graduation," said Odesa MoIA University professor Olha Pasko.
Cooperation and knowledge-sharing are key in these challenging times. EUAM Ukraine and its partners are contributing to building a stronger and more resilient law enforcement community in Ukraine. So that they are better equipped to face the psychological challenges of the ongoing war, and the ones that will follow in post-war times.