Ukraine's parliamentary elections: EUAM advisors hopeful of a repeat success as citizens go to polls
July 17, 2019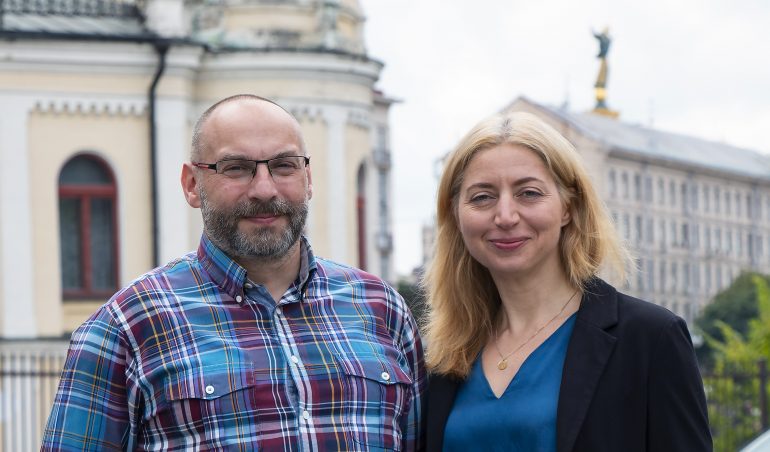 Ukraine successfully organised two rounds of a presidential election on 31 March and 21 April and is currently preparing for parliamentary elections on 21 July. The EU Advisory Mission Ukraine (EUAM), along with other international donors, has been asked by its Ukrainian partners for support in order to protect the integrity of this year's elections and ensure they are free and fair.  
EUAM's Lead Adviser on Good Governance, Kirsten Joppe, and the Mission's Lead Adviser on Public Order, Dariusz Wojcik (pictured above), have both worked with the Ukrainian authorities in their respective areas of expertise. Kirsten led EUAM's efforts to encourage cooperation between civil society and law enforcement and train police officers to become better acquainted with Ukraine's electoral laws and spot possible electoral violations. Dariusz on the other hand has worked with his Ukrainian counterparts to advise on matters relating to maintaining public order policing during the election period.
In this interview, Kirsten and Dariusz talk about their experiences in preparation for the parliamentary elections. They hope the success of the elections in spring time will be repeated this Sunday.
What were the areas that the Ukrainian authorities asked EUAM for support with in the run-up to the parliamentary elections?
Kirsten: The requests we received from our partners in the National Police of Ukraine differ from region to region. No area faces exactly the same issues. In some regions, support was requested in order to ensure that all police officers working on elections are well-informed about the laws that citizens and law enforcement officials are expected to observe. In others, the focus was on bringing together civil society, law enforcement and other relevant partners involved in the election process to increase understanding, trust and the exchange of information. It is important for people to trust in the overall integrity of the elections, and to feel safe in casting their vote.
Dariusz: Since 2016, EUAM has been working closely with the National Police of Ukraine to support the introduction of new policing models to reduce the risks of violence at mass events. One example of this cooperation is the creation of dialogue policing teams, whose task it is to talk with crowds. In the pre-election period, we have been on hand to advise on how these new policing models have been applied. The upcoming election is the third big election event this year. The previous two elections were a sign of the progress Ukraine has made in its democratisation process and we very much hope that the parliamentary elections will also be a success.
What are the biggest threats to ensuring that the elections take place in a free and fair way?
Kirsten: The erosion of trust in the election process is a big threat. If there are credible concerns about the outcomes of the elections in a particular area, it is important that people are aware of that and can make use of the available mechanisms to appeal the result. Civil society and the media can play a key role in disclosing electoral violations. Hats off to them! The police has a responsibility to take action as a result of such information, bringing perpetrators to justice and protecting those who reveal it. A secure electoral environment is of utmost importance to encourage people to cast their votes.
Dariusz: The job of law-enforcement officials during elections is to ensure that they take place in a way that is in line with the law. So it is important that everyone participating in an election – particularly law enforcement officers – are aware of what is allowed and what isn't. Not all electoral violations are intentional – it could be that people are just not aware of certain aspects of the law, for example laws governing the taking of pictures in polling stations.
Can you tell us a bit more about the advice and training EUAM has provided in advance of the elections?
Kirsten: As I mentioned before, cooperation between civil society and the police is crucial in protecting against possible violations, and taking action against violations that occur. To this end, we supported roundtable meetings between civil society and law-enforcement officials in Lviv, Kharkiv, Kropivnitsky and Odesa. We also supported specific training for police officers tailored to the needs of particular Ukrainian regions on issues such as election day procedures and possible electoral violations. The trainings were organised in close cooperation with election experts from civil society groups, in particular the Ukrainian Civil Network, Opora.
Dariusz: As well as our regular work supporting the introduction of European best practices in public order policing, we have also provided specific advice related to Ukraine's electoral law and procedures. During the presidential elections, around 50,000 police officers were involved – that's just under half of all of Ukraine's police officers! Our view is that this places too much strain on police resources. In Ukraine, police officers are for example responsible for transporting ballot boxes and ballot papers. In most European countries, this is a not the responsibility of law enforcement, but rather civilian authorities. So we at EUAM have passed on our advice on these and other key electoral procedural issues. 
How would you evaluate cooperation with Ukrainian partners?
Kirsten: We were very pleased with the outcome of the trainings. They were highly appreciated by the people who attended them. Our partners in law enforcement know that they have a balance to strike in countering security-related threats. On the one hand, they need to maintain a secure environment and law and order during the election process that encourages people to cast their votes. On the other hand, security-related actions have to be proportionate and not unduly interfere with basic freedoms and human rights. We were pleased to see such a lively and trust-based interaction of police with civil society, whether during the training or roundtable discussions.
Dariusz: The public authorities in Ukraine are aware of many of the challenges that exist and are open minded enough to ask for assistance in overcoming these challenges. The country is changing and the elections are a sign of the strength of Ukraine's democracy.