Ukraine's Independence Day: War, Resilience, and a European Future
August 24, 2023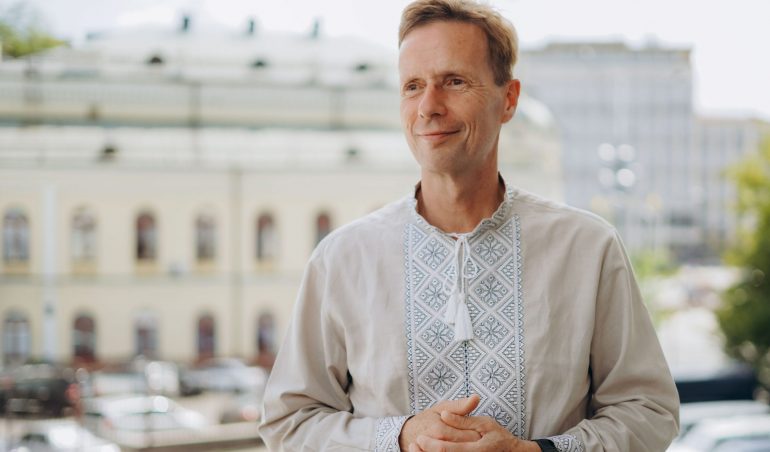 Walking past the Heavenly Hundred Heroes Memorial on Maidan Nezalezhnosti, and through European Square, where the Ukrainian and EU flags stand side by side, I am every day reminded of how Ukraine and Europe share the same values and the same aspirations.
We all want to be part of a free, democratic, prosperous Europe, where war and aggression no longer has any place.
But once more, we must celebrate with you your Independence Day in wartime.
The EU Advisory Mission in Ukraine (EUAM) is on the ground working with you and supporting your will to build an independent democratic state, which ensures the rule of law and respects human rights for all.
In July, I was in Odesa and visited some of the liberated territories in the South.
I am deeply struck by the extent of destruction and the serious consequences of Russia's occupation, along with the massive repercussions of the flooding caused by the sabotage of Kakhovka Dam.
To me, it is surreal. How can appalling scenes like this unfold in Europe in the year 2023?
Months of shelling and mining by the occupiers has brought massive destruction to Ukraine and to the lives of Ukrainians. I am amazed at how this devastation does not shake your resilience. I see it only growing stronger.
In Snihurivka, a small town in Mykolaiv region, we passed damaged and destroyed buildings with boarded windows and no roofs. A small shop stood defiantly next to a destroyed building. Children were playing, collecting shrapnel, not realising how dangerous their playgrounds have become due to the potential presence of unexploded ordnances.
During a visit to Izyum, our team was struck by the extensive hardships and difficulties experienced by the people living there. Schools and kindergartens have been destroyed, and the streets still show the scars of relentless shelling.
Here, as in other liberated territories, people live in dire conditions. They strive hard just to meet their basic needs.
What we do in Izyum and also in Snihurivka is part of an EUAM pilot project aimed at assisting local law enforcement agencies and authorities in restoring normalcy in the liberated areas. EUAM provides training and equipment, psychological support, and support in the investigation and prosecution of the many war crimes that have been committed.
With Russia's unprovoked and unjustified aggression, the EUAM has taken on new responsibilities. International Crimes and support to our counterparts in the territories liberated from Russian occupation are now key areas of our focus, in addition to our core tasks.
The EUAM was established in 2014 following the Euromaidan protests. The EUAM main tasks is to assist Ukraine in reforming the civilian security sector. This is a necessary and key preparation for Ukraine eventually joining the EU.
On this Independence Day, my hope is for Ukraine not only to triumph over the aggression, but also for Ukraine to fully and successfully implement all the necessary reforms that will allow integration into our European family.
The EU Advisory Mission is here to support Ukrainians in this path!
Happy Independence Day!
Rolf Holmboe, Head of EUAM Ukraine
*Op-ed has been published at European Pravda