Training for judges in Kyiv focuses on the topic of domestic violence
November 26, 2018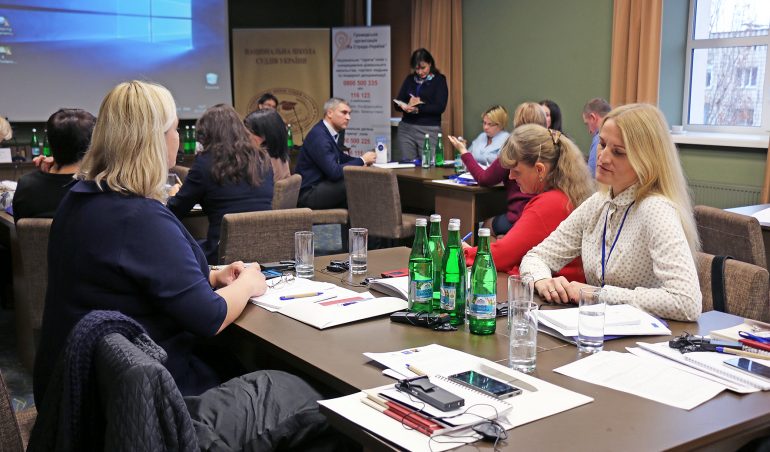 How to ensure that the judicial system in Ukraine is more responsive to domestic violence was the subject of a two-day training course for judges on 22-23 November, organised by the National School of Judges  with the support of the EU Advisory Mission Ukraine, as well as the NGO La Strada-Ukraine and the Geneva Centre for the Democratic Control of Armed Forces (DCAF) within the framework of the EU Pravo-Justice project. The course was organised on a 'train-the-trainers' basis, and the 30 judges that took part will now be better equipped to train other judges.
"The experience of people who have brought cases of domestic violence to court has often been poor, in part because it was only considered by the law as an administrative offence" said Callum Watson a Project Coordinator at DCAF. "Judges have not traditionally had a sufficient level of understanding of the issue. Where sentencing has occurred, it has failed to deter perpetrators from becoming repeat offenders".
Many people suffer domestic violence in silence and raising awareness within the criminal justice system of the issue is central to combatting it. Ukraine is taking important steps towards tackling the issue, for example adopting a law on counteracting domestic violence at the end of 2017, which criminalised violence within the home. Domestic violence remains however a serious problem in Ukraine and across the European continent. 
EUAM and international organisations and NGOs are supporting the Ukrainian authorities to do more to fight gender-based violence. As well as supporting training for judges, EUAM is also training police officers and prosecutors with the aim of changing attitudes and preventing violence throughout the criminal justice chain.