The role of Information Technology (IT) in reforming Ukraine's Civilian Security Sector
June 25, 2019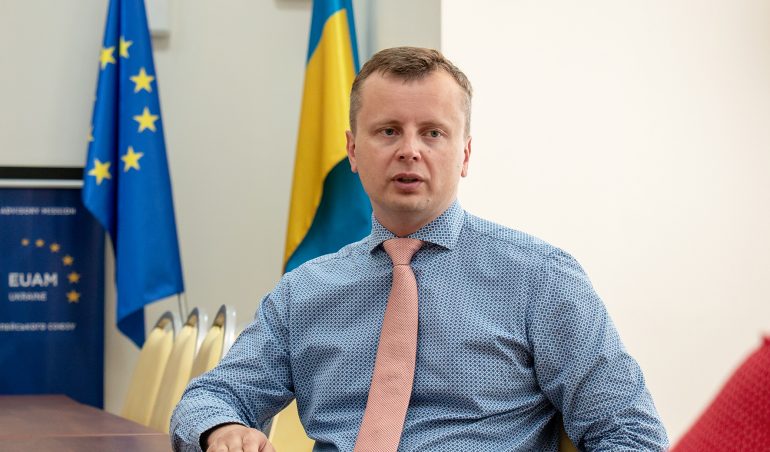 As part of its support to Ukraine's civilian security sector institutions, EUAM offers strategic advice and practical support in Information (Digital) Technology (IT). IT has a considerable impact on the efficiency of the law enforcement and judicial system and therefore the security of citizens. The European Union is a major international donor in Ukraine, with over 50% of the largest EU projects in the country either partly or wholly focused on IT. Yuriy Chumak is EUAM's ICT Governance Officer, and here he explains why IT is so important for Ukraine's reform process.
–  So can you tell us briefly why digital technologies are so crucial these days?
–  The importance of digital technologies in our lives is growing every day. We are living in a digital world, digital technologies are everywhere – both in the commercial and public sectors, and in every facet of our everyday lives. Any new project undoubtedly uses modern developments in IT. Examples of such technologies are mobile technologies (such as smartphones, tablets, notebooks); cloud computing, digital signature; chatbots, natural language processing; mobile ID, internet of things; and Artificial Intelligence. These and other digital technologies have substantially changed our lives.
–  The new president, Mr Zelensky, is quoted as saying that he dreams "about a state in a smartphone". So can citizens expect radical changes in how they experience IT during his term as president?
–  The process of introducing modern IT solutions in state institutions is not as simple as it seems at first glance. We need creativity as well as knowledge of the subject area, deep knowledge of modern technologies and their potential for further growth. In addition, before introducing any technology, we have to understand the needs of citizens vis-a-vis the services (so-called 'e-services') that the state should provide. The main requirements in this regard are the following: all information should be available in digital format, be available via a single user interface, or so-called "digital assistant", be provided as soon as possible at the right time and place, and be secured. The same approach applies to the civilian security sector. Therefore, a prosecutor, investigator, or patrol officer, among others, should have all the necessary information in one place in order to be able to carry out their duties effectively. This does not necessarily mean that all state-related databases must be physically centralized, it just means that they must be seamlessly integrated with each other, or as they say, be interoperable.
–  How well placed is Ukraine to embrace IT as its state institutions reform?
–  Despite of Ukraine's governance challenges, the country's public sector is actually in a very good position in terms of IT due to several factors, such as availability of highly qualified IT experts on the market. Ukraine ranks first in the world (per capita) in providing IT outsourcing and IT outstaffing services. Other factors are the widespread use of the Internet and network technologies, high performance and inexpensive processors and storage systems, and high maturity level of IT developments due to the availability of a wide variety of already developed software frameworks and libraries. As a result, there is no need to develop a new IT product from scratch,which significantly speeds up the development and implementation process, and minimizes errors.
–  So what is the "golden standard in IT" for state institutions?
–  It is important to keep in mind that in fact, there are no "international best practices" in IT, since digital technologies are developing so fast. Many modern technologies that have been introduced recently are no longer used, as there are cheaper alternatives on the market. Thus, long-term planning and implementation do not work in IT. Instead, an agile approach should be used – short-term planning, continuous testing and changing, results revision. In addition, we have to mention the following tendencies: a data-driven approach is replacing process-defined approach, and modern IT products not only automate existing processes but also create new services and businesses. All of these factors can allow Ukrainian public institutions, in theory, to introduce quickly new digital services that were previously unavailable.
Of course, we also have to mention Artificial Intelligence (AI) as a major catalyst for the widespread use of digital technologies. AI is a set of computer technologies that automate tasks that require intelligence (for example, pattern and image recognition, event forecasting, chess playing, etc.). The widespread use of these technologies will significantly improve the level of security in the near future. Areas where AI technologies will have the greatest impact in the civilian security sector include the following: photo, faces and car plates recognition, crime  forecasting,and in the area of criminal analysis –to identify patterns and links within a large amount of diverse data. The implementation of modern digital technologies can significantly improve the performance and efficiency of processes of the Ukrainian civilian security sector, and these technologies can be implemented quickly, possibly within two years.
–  How can the EU deliver support in IT to Ukrainian state institutions most effectively?
–  Many of the IT projects supported by the EU are expensive and time-consuming, thereforea thorough functional IT assessment is essential. To give you an example, during the project 'Functional ICT assessment', conducted in November/December 2018, EUAM experts assessed key processes and functions of the Ministry of Internal Affairs of Ukraine and its three law-enforcement agencies (SBI and PGO are not under MoIA umbrella) from the point of view IT. This led to the identification of key drawbacks and provided recommendations on how to support reforms within the IT area in the most effective way. EUAM recommendations became the basis for the subsequent development of support packages of the EU-funded project 'PRAVO Police' – in particular, support for building a reliable IT infrastructure for the National Police of Ukraine. Among specific areas identified by EUAM experts that would benefit from IT solutions were criminal investigation, in particular, electronic case management, human resources management, biometric management, road safety, situational centres, and criminal analysis. Implementation of modern IT solutions will lead to a significant improvement of the above-mentioned areas within the law-enforcement system.
–  What else has EUAM done to support IT in the civilian security sector?
–  A skilled and experienced team is a key factor for the success of any project, and IT projects are no exception. But although IT professionals are plentiful in Ukraine, state salaries cannot compete with what these experts can earn in the private sector. It is therefore hard to attract them, and motivation levels among IT staff working for the state are low.
From 2017 to 2019, EUAM contributed to providing practical support through training to improve the knowledge of IT experts to the required level. More than 300 experts from the National Police of Ukraine, the Ministry of Internal Affairs of Ukraine, the State Border Guard Services of Ukraine, and the Prosecutor General's Office of Ukraine have now been trained by certified trainers from companies accredited by leading IT vendors (Oracle, Cisco, Microsoft, etc.). Within that training they have focused on areas such as cybersecurity, software development, modern project management, IT systems configuration and maintenance, IT governance and management, and delivery of IT services. EUAM will continue to provide strategic advice and practical support in IT to Ukraine's civilian security sector.