Strengthening Law Enforcement During Wartime: EUAM and Ukrainian MPs Jointly Visit Kirovohrad Oblast
July 03, 2023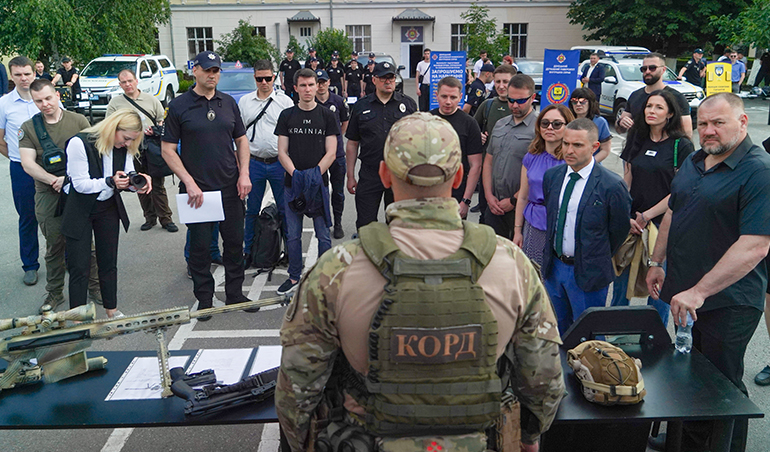 From 27-29 June, representatives of the European Union Advisory Mission (EUAM)  Ukraine, along with members of the Verkhovna Rada's Law Enforcement Committee, visited Kropyvnytskyi, Kirovohrad Oblast, to familiarize themselves with the functioning of the local Law Enforcement Agencies (LEAs) at times of the Russian full-scale invasion.
The visit confirmed the importance of interactions between members of the Ukrainian Parliament, representatives of regional administration bodies and LEAs, when overseeing the implementation of legislation. For the members of the delegation, it was crucial to understand the challenges law enforcers face on the ground and subsequently reflect these findings in their work.
"The Law Enforcement Agencies we met during our visit to Kropyvnytskyi, including the National Police of Ukraine, and National Service for Emergency Situations as well as Donetsk MoIA University deserve great recognition for how well they are coping with challenges posed by the Russian aggression. Moreover, Kirovohrad region LEAs provide support to LEAs in liberated territories." – noted Veronika Kristkova, Head of Rule of Law Component at the EUAM Ukraine.
During working meetings with the military and political leadership of the Kirovograd oblast, the delegation discussed issues related to pre-trial investigations and court proceedings under martial law. They specifically addressed the investigation of war crimes, crimes against humanity, and acts of genocide, as well as the prosecution of collaborators. Furthermore, the protection of human rights was talked about.
"It is of utmost importance for us to have the opportunity, during the legislative drafting stage and as the drafts progress through our Committee, to seek expert opinions and recommendations from the European Union Advisory Mission. This will ensure that the final legislative acts fully aligned with the regulations of the European Union." – emphasized Serhii Ionushas, Head of the Verkhovna Rada Committee on Law Enforcement.
The EUAM representatives and Ukrainian MPs also paid a visit to the Donetsk State University of Internal Affairs, which has relocated its main facilities from Mariupol to Kropyvnytskyi. Furthermore, they visited a shelter for victims of domestic violence and were briefed on the operations of the situation center at the National Police of the Kirovohrad region.
"The strategic advice and practical support EUAM provides to Law Enforcement Agencies in Kropyvnytskyi and across the country is crucial for Ukraine's progress on the path to European integration" – said Bohdan Drapiatyi, Deputy Minister of Internal Affairs of Ukraine.
Engaging in substantive and direct communication with Law Enforcement Agencies in Ukraine enables the EUAM to gain a deeper understanding for the effects which martial law has on the operations of these institutions. The Mission will continue to provide expertise to the Committee on relevant legislation – in relation to issues discussed during the visit, but also regarding draft laws on the right to bear arms or criminal liability for illicit trafficking in firearms.