Steve Jobs and Vincent Van Gogh remind public to drive safely in latest phase of 'Kerui' campaign
June 21, 2019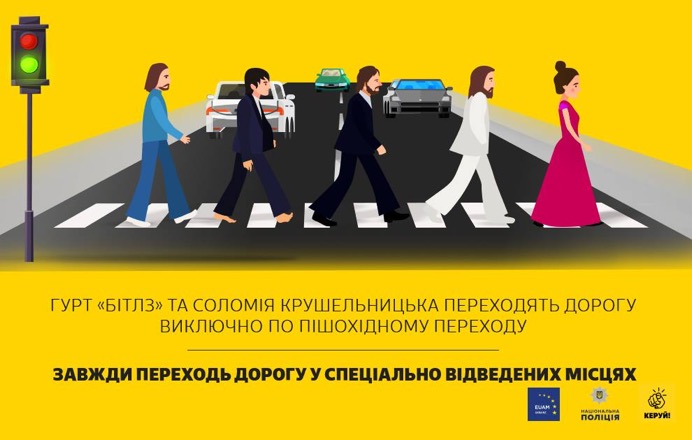 The Beatles and legendary Ukrainian opera singer Solomiya Krushelnytska stand on a zebra crossing to remind drivers to give way to pedestrians. The inventor of the telephone Alexander Graham Bell refuses to drive while talking on a mobile and so parks his car before calling Apple founder Steve Jobs. And the head of Ukraine's Parliament in 1917-18, Mikhailo Hrushevsky, gives way on the road to an ambulance driving Vincent Van Gogh to hospital, reminding people to always let emergency vehicles pass. These were a few of the twenty absurdist graphics with a serious underlying message on road safety shared online by the National Police of Ukraine with EUAM support.
This small-scale Facebook campaign, which was carried out in late May and early June 2019, is the third wave of the 'Kerui' road safety project, which is implemented by the National Police of Ukraine with EU Advisory Mission (EUAM) support. Previous waves included a video featuring famous Ukrainians past and present exhorting their fellow citizens to drive better and a 'ghost bus' without a driver, which travelled around Ukraine in autumn 2018 looking for positive driving role models that people can look up to.
"The Kerui project is based on research which demonstrates that people respond better to positive messages than to negative ones and are more likely to share positive content with their family and friends," says Olga Atamanova, Deputy Director of Communications at the National Police of Ukraine. "With these funny and uplifting images, we hope to spread the message that it's neither smart nor cool to violate road traffic regulations. By violating the rules of the road, all you are doing is putting yourself, your loved ones and those around you at risk of injury or death". 
EUAM has supported the development of a national road safety strategy and action plan, has donated equipment across the country to the National Police of Ukraine and has also supported awareness raising initiatives such as Kerui.